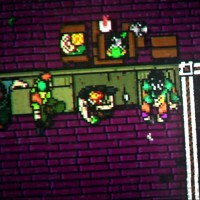 Devolver Digital Unveil Hotline Miami 2: Wrong Number Trailer
If you're an indie game fan, then you've probably played Hotline Miami. If you aren't, then you should play it. Released in 2012 from Devolver Digital, Hotline Miami met with acclaim across the board for it's ultra-violent game-play and frankly ridiculous soundtrack. The game was an exercise in flowing mechanics and weird story-telling. Needless to say, Devolver are giving us a sequel, Hotline Miami 2: Wrong Number, and finally we have a look at what that sequel looks like:
Oh, oh yes. Yes, that will do just fine.
Hotline Miami 2: Wrong Number is coming to PS4, PS3, PS Vita and PC Q3 2014.