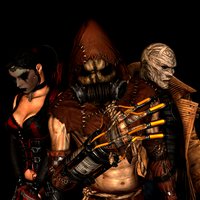 As we all know, Rocksteady announced 'Arkham Knight', the final instalment in the 'Arkhamverse' series, well, at least the last one Rocksteady will be making. Taking place just one year after the events of Arkham City, the plot of the game will see a Gotham that has come under siege from many of Batman's famous villains including Two-Face, Penguin, Harley Quinn, and Scarecrow, and a new face thrown into the mix, too.
"We hadn't in the previous games introduced someone new to the universe," game director Sefton Hill said. "We wanted to introduce someone who could really challenge Batman to go head to head with him in lots of different ways. We're not talking about those ways just yet but this guy is definitely a formidable foe for Batman."
We've also found out the the Batmobile is going to play a huge part in this game, and I can assure you I'm incredibly excited for that!  "We wanted to make the best car in any game ever," Hill said. "That was our mission statement right from the start." The Batmobile will not only offer convenient transport at the push of a button, but will also heavily feature in many of the Riddler's challenges.
It's also been confirmed that Kevin Conroy will indeed be back to voice the Dark Knight himself.