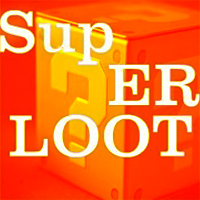 Interview: Super Loot
Stop for just a moment!
Look around you, look at the figurines on your shelf, the books and graphic novels arranged neatly (or in my case as a mountain known as README), the artwork and posters hanging on your wall, maybe you've got some memorabilia sitting on your office desk! Under your work shirt you're wearing your favourite geeky t-shirt or super hero underpants maybe you've even gone so far as to ink your skin with your favourite symbol from a video game or comic.
The merchandise we own, boxed or unboxed, is just as important to us as the game or movie, comic or television show that it is based off of, it signifies our passion and let's everyone know about our interests. Some collections are huge, some items come with a hefty price tag and some are beyond rare, regardless, these are more than just things and knick-knacks, they are treasures and are important to us.
Now there is a new service available to the geek working within a budget, Super Loot! The UK based online store puts together boxes of assorted geek goodies each month and delivers to customers in the UK, Ireland and the world, everything from t-shirts to figurines, quirky collectors items to comic books and all for a small price with no subscription fees!
It all sounds too good to be true so to find out more, the gang over at Super Loot sit down with us here at the Arcade to tell us how it all works!
Who are you guys and what is Super Loot?
We are a group of geeky gamers from all over the UK with a love for technology, gaming and everything geeky! Super Loot is a monthly mystery box full of geeky goodness that you would have never realised you wanted until you have it.
Where did the idea come from?
A few early members of the Super Loot team got together doing some online shopping and just wanted everything we saw! But unfortunately we couldn't decide what to get, what we really wanted was a magical place where we could pay a one off low cost and get a bunch of random geeky items without having to pick ourselves! Oh, as well as without that awful re-billing that so many other places do. Hence Super Loot was born. So if you are like us and just want everything you see on geeky/gadget websites but don't know what to get because there is so much choice, then Super Loot is for you.
How does Super Loot work?
You can join us for 1, 3 or 6 months (without worrying about auto-billing), then each month we send out a Super Loot mystery box to everyone who has joined us for that month. Sometimes we theme the boxes, for example we have a Zombie themed box and Doctor Who box coming soon! We also sometimes have little hints for the next box on our Facebook page (www.facebook.com/superloot). Also on our Facebook page we offer our looters continuous giveaways from the latest games and technology to random pop vinyl figures, plush toys and even Super Loot boxes. Our giveaways are also open to non-looters as well, we don't like to leave anyone out if we can help it! Once the months Super Loot has been sent out we encourage looters to share pictures, make videos and review their boxes for chances to be in the top 10 best and get special bonuses within their next box for sharing the love
Is the site only for users in the UK or can Irish geeks avail of the Super Loot boxes?
We are UK based company, however we do ship worldwide. We also encourage people to take part in our competitions on the Facebook page, as we ship the prize worldwide for free!
What sort of stuff can people get their hands on?
We ship anything from awesome t-shirts to collectables to comics to awesome other bits and bobs that we know people will love! We have also shipped items that have been specially made just for us that you can't find anywhere else, meaning you will get something a little different that you can show off to your boring friends!
Have you had a favourite item so far?
It's impossible to pick a favourite because we geek out so much when buying new items for Super Loot boxes we just want it all! We recently shipped some awesome portal canvas bags that have been made specially just for Super Loot and it's looters, they proved to be so popular that we had to order more! We also shipped some rare retro Mario cards from 1989 (In mint condition and sealed!) in one of our first boxes, we thought people would keep them sealed and have them as something to keep, but everyone got so excited and just ripped them open! It was bizarre, but we loved it!
How successful has it been so far?
Super Loot has grown from day one, each month we send out double the boxes we shipped in the month previous, the reason for this is because we love our looters; we listen to feedback and take on board what they say. Most of our giveaways and box items are chosen with our looters in mind. Without them we are nothing so we believe our commitment to customer service has made Super Loot successful.
What has your best experience been since the site started?
The best experience for us is watching the videos and looking at the pictures looters send us of them sharing the loot they got and seeing how much they love it! Each month the Super Loot team work day and night towards that point that the Super Loots Facebook, Twitter and e-mail is going crazy with people sharing everywhere. We are happy to say this is an experience that happens monthly and it's an event that we wait all month to see!
What plans do you have for the future, where do you see Super Loot going in the next few months?
Next year we are hoping to take Super Loot to as many conventions as possible, we want to wait until then to make sure we can keep up with the same level of service. In a sense we are holding ourselves back because we do not want to get too big too quickly and leave any of our looters behind. In the months running up to Christmas we have an awesome Zombie box coming out for October, as well as a Doctor Who box that ships the same day that the 50th anniversary episode airs. We are super excited to see how people respond to these, and hope they love them as much we do!
Lastly, if you were trapped in an Arcade for eternity what one game would you play to pass the time?
We asked around the Super Loot office and it's a tie between Street Fighter and Space Invaders, but in all honesty, that's a difficult question to answer considering most of the office is immersed in Grand Theft Auto V!
_____________________________________________________________________________
So if you fancy getting your hands on some geek goodies, be sure to head over to the Super Loot official website! You'll find more information about the service and be able to start your geeky collection or grow your current one with different packages available to suit all budgets!
Make sure you join their Facebook and Twitter pages for all updates and new on competitions!
Editor-in-Chief, part-time super villain and hoarder of cats. If you can't find me writing, I'm probably in the kitchen!