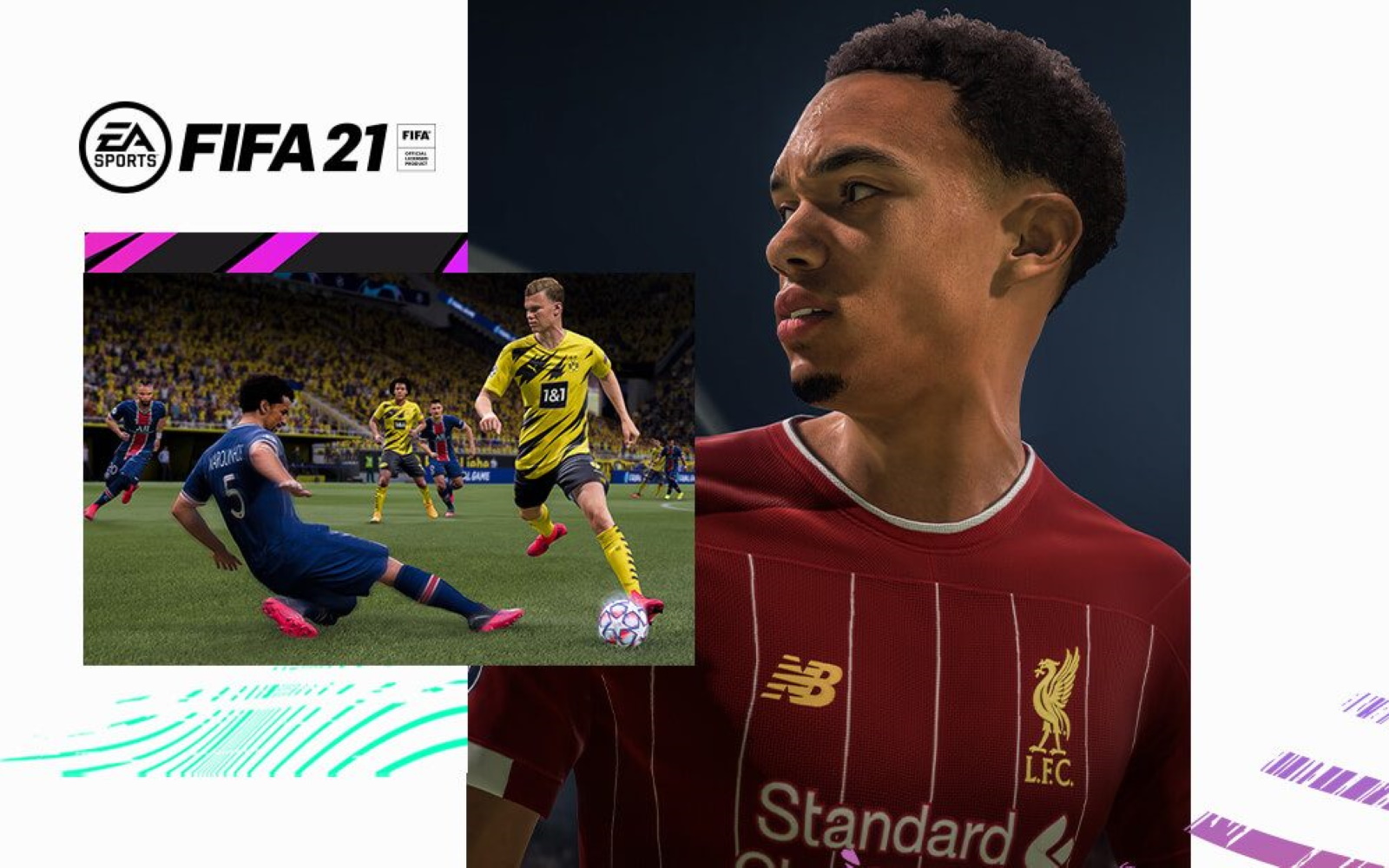 FIFA 21 Gameplay Trailer, Career Mode & FUT Info
In the past few weeks, details for FIFA 21 have been announced. From changes to the gameplay to customisation of your FUT team, with the addition of personalised stadiums and co-op play with friends, we have all the top details right here!
Agile Dribbling – A new Agile Dribbling system gives you the means to unleash your creativity in 1-on-1 situations. Use fast footwork, more responsive close control, and new skill moves like the ball roll fake to explode past defenders.
Positioning Personality – See world-class forwards hold their runs in line with the last defender, creative playmakers find space to play through balls, and midfielders shut off passing lanes as players better live up to their real-world understanding of space and time on the pitch.
Creative Runs – Get more control over your attackers' movement with more ways to break down the defence in build-up play.
Directed Runs – Flick the right stick after triggering a run to take full control over the direction of the runs your teammates make.
Directed Pass & Go – Flick the right stick to decide where your teammate makes their run after a pass
Player Lock – Press in both sticks to lock to your current player when on the attack
Fundamentals of Football – Updates to the fundamentals of football raise the game all over the pitch.
Passing – A more perceptive understanding of space and opposition positioning allows players to play a more intelligent passing game in FIFA 21.
Blocking – A new blocking system creates more balanced outcomes when defenders block shots and crosses
Responsiveness – Faster reaction times unlock more responsive players, enabling them to better escape from tight situations when under pressure from opponents.
Manual Headers – Take full control over headed shots and passes with manual headers that send the ball exactly where you aim
Career Mode
Manage every moment in FIFA 21 Career Mode with new innovations that create additional depth in matches, transfers, and training to give you more control over your team's rise to the top and make it easier than ever for you to begin your managerial career.
Interactive Match Sim – Jump in and out of matches at any point during the 90 minutes to influence the course of the action, or take charge of key moments including penalties and free kicks thanks to new contextual prompts that let you change the outcome of the match.
Enhanced match data also enables you to manage the game with precision, giving you the ability to make changes directly from the sim based on the match stats and your players' performance levels and stamina.
Player Development – Manage your players' development in greater detail with a revamped growth system. Turn right backs into right wingers, defensive midfielders into centre backs, and more.
New Set-Up Options – Customise your Career Mode with new initial set-up options. Get a more true-to-life experience of negotiating signings on the transfer market with Authentic Transfers, or boost your team's starting budget to help you build your squad with Financial Takeover.
Expanded League Themes – Enjoy deeper immersion and authenticity with expanded custom league-specific themes for some of the world's most prestigious and most played competitions that now span more areas of Career Mode – including the UEFA Champions League and CONMEBOL Libertadores.
FIFA Ultimate Team
Take on the world with your friends with FUT co-op. Earn progress and gain rewards, in order to build your team and take on the best in the world. There are a number of new features to FUT 21, which include:
FUT CO-OP – Win together, get rewarded together in FUT 21. FUT Co-Op lets you team up with a friend online in FIFA Ultimate Team to complete special Co-Op Objectives and earn even more rewards for your FUT Club.
FUT STADIUM – FUT Stadium is a custom-built ground inspired by some of the biggest stadiums and most intense atmospheres in the world of football. Choose your walk out music, fan celebrations and customise you seat colours, tiers, banners, net, pitch lines and even have pyrotechnics, to create your own flare and make it your stadium.
ICONS: THE FUT 100 – Introducing the FUT 100, 100 of football's greatest ever players. Create your dream squad as a combination of today's superstars and footballing giants of the past like Eric Cantona, Xavi, and Philip Lahm joining Pele, Maradaona, Cruyff, Ronaldo Nazario, Zidane, and more to make up the prestigious FUT 100.
FIFA 21 is set to be as immersive as ever before. With loads of improvements to gameplay and expanded customisation to the highly addictive FUT, FIFA 21 is set to keep fans playing for a long time.
FIFA 21 will release worldwide on October 9th for PS4, Xbox One, PC & Switch. Pre-order the Champions or Ultimate edition and get access three days early on October 6th. The game will also come to PlayStation 5 and Xbox Series X later in the year and will be available for a free upgrade, if players purchase the PS4 or Xbox One versions, thanks to EA's Dual Entitlement.