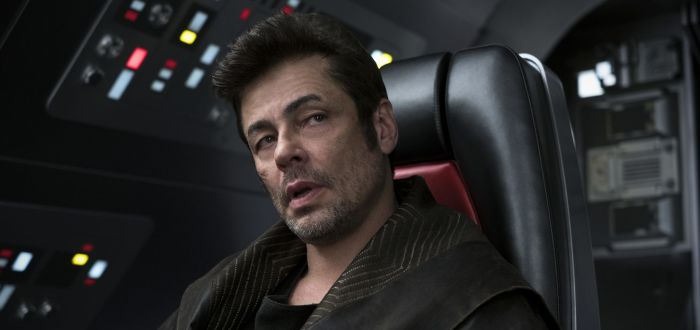 A while back it was announced that both Benicio del Toro and Laura Dern would be playing characters on Star Wars: The Last Jedi. We haven't seen much of either of them but that's changing now.
A couple of days ago a South American promo spot made the rounds on Twitter. It was mostly footage we've seen before, but there's a brief snippet where we see Del Toro's character, DJ.
Mais um novo tv spot de STAR WARS #TheLastJedi pic.twitter.com/HGYNzlROZV

— amanda (@ahsokathanos) November 20, 2017
According to John Boyega DJ's a morally ambiguous character who takes no sides. He assists Finn and Rose (another new character, played by Kelly Marie Tran) in a mission where they need a hacker. Or as they call them in the Star Wars universe, slicer. He'll also have his own comic book miniseries next January.
But that's not all. We finally know what kind of character Laura Dern will be playing! I'll be honest, adding her to this film made me more interested than usual because she's the best. In fact, Laura Dern should be in everything!
Entertainment Weekly ran a short piece on the character, as part of their special coverage. Dern plays Vice Admiral Amilyn Holdo, a high-profile member of the Resistance who arrives to shake things up. She will have some sort of conflict with Poe Dameron. Poe's loyal to Leia so he doesn't agree with Holdo's way of doing things. The character already appeared in a couple of books about Leia, showing their start at the Resistance when they were younger.
It's only three weeks before we see how The Last Jedi turns out! At 130 minutes, it'll be the longest Star Wars film to date so I'm sure it'll pack quite a punch.
Angry Spaniard, adoptive Irishman. Writer, reader, tea drinker and video game player/designer.