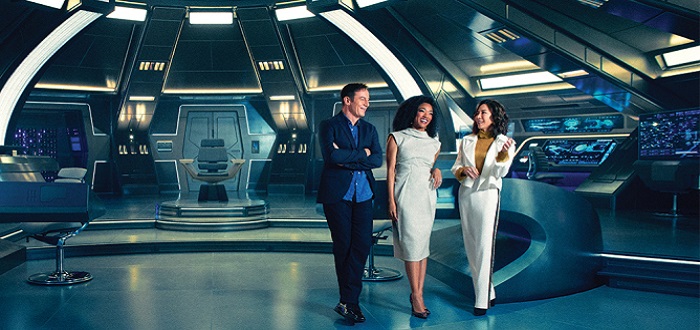 Bryan Fuller 'Pushed Out' Of Star Trek: Discovery?
Star Trek: Discovery is all set to debut on September 24 after being pushed back twice. The first time the show was pushed back saw Bryan Fuller, who was to be the showrunner, replaced. At the time it was being reported that the split was amicable as Fuller was also working on American Gods at the time.
Variety is now reporting that this was not entirely true. According to CBS sources close to Fuller, he was actually pushed out as showrunner. There appears to be a legitimate reason, but details like this always seem to take a while to come out. He will remain listed as a co-creator with Alex Kurtzman.
The biggest issues that seem to come up with Bryan Fuller is that he never really prioritized budgets and deadlines. So while Fuller brought a Star Trek background, having worked on both Voyager  and Deep Space Nine, he was not a typical CBS showrunner. President of CBS Studios, David Stepf even praised Fuller's hiring by saying:
It was really important that we get somebody with a lot of 'Trek' cred versus just getting somebody who would be an interesting voice. We felt like it would be smart business to give the fans what they wanted. There's not a whole lot of people who have the visionary capability along with the 'Star Trek' credibility and experience. So Bryan became a good and obvious choice to do that.
Unfortunately, after failing to deliver scripts for Discovery for months, Fuller and Kurtzman had a meeting with CBS Corp. CEO, Leslie Moonves. It was during this meeting that they informed Moonves that they would not make the January release deadline that had initially been announced and publicised. The delay was accepted, but Moonves was not too happy about it.
A month after this meeting with Moonves, Bryan Fuller was out as the Discovery showrunner. He will still have his fingerprints all over the show, but we now have more information as to why he was ousted. Fuller has done work on Hannibal, American Gods, Heroes, Pushing Daisies and Dead Like Me. He is sometimes described as brilliant, and other times eccentric.
The second time the show was delayed was due to the casting of the show's star, Sonequa Martin-Green. Due to her contractual obligations with The Walking Dead, the filming had to be delayed. Hopefully, the longer the wait, the sweeter the cake.
What do you think of the Bryan Fuller situation? Are you disappointed he was ousted? Are you looking forward to Star Trek: Discovery? Let us know your thoughts in the comments below.