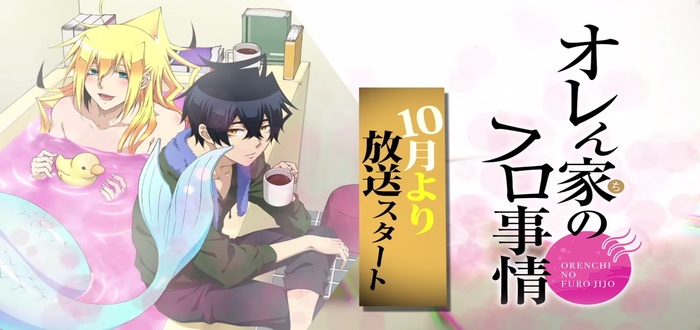 Orenchi no Furo Jijou – Otaku Review
Do you ever just find yourself in need of some ridiculous, cute and kooky anime to purge yourself of all the bad in the world? Or are you by chance just a fan of aesthetically pleasing fictional characters?
If you answered yes to either of those questions then hi, hello, and let me introduce you to Orenchi no Furo Jijou!
Now the series is anything but new, in fact it was originally a four panel manga that started back in 2011. Skip a few years to 2014 and the manga was picked up for a short-form anime adaptation that aired during the winter 2014 season. The series was created and illustrated by Itokichi and currently has a total of six manga volumes, whereas the anime only got 13 episodes at four minutes each.
Honestly speaking, the plot is incredibly simple, but that's expected of a short-form anime. Instead of heart wrenching angst and thrills, you get a high school boy (Tatsumi) who saves a merman (Wakasa), who in turn decides to just live in Tatsumi's bathtub. And yeah, that's basically the gist of the anime. But the style is so endearing, in my opinion, with a good mix of stylized animation and adorable chibis!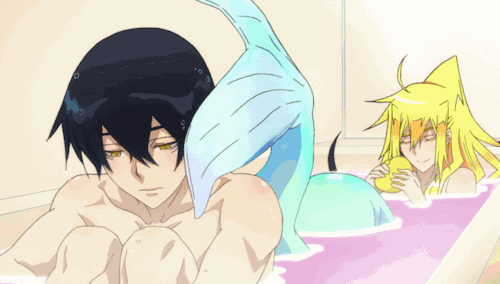 Tatsumi is sweet and selfless, and seems to just accept his new housemate fairly quickly. Even after more 'guests' arrive at Tatsumi's home, the teenager is still nothing but accommodating, buying different kinds of bath mixes and bubble bath, and even cooking dinner for everyone.  Along with Wakasa, his friends Takasu an octopus, Mikuni a jellyfish and Maki a sea snail all like to invade Tatsumi's home, but more importantly, his nice and neat bathtub.
Each episode is its own little story, with episode titles about the circumstances of something or another. Really, the anime is just cute and silly, and at times maybe a little questionable, but that's what short-form anime is all about. It's a quick and fun watch with cute characters just hanging out in, on, or around Tatsumi's bathtub. There was even a Halloween special for added comedy and adorable spookiness.
But don't let the edgy intro fool you, this anime is literally just an excuse for cute half naked sea creature boys. Not that there's a problem with that! In the world of anime and manga there's far worse out there, but hey, to each their own, right?
Don't forget to let us know your take on Orenchi no Furo Jijou in the comments, as well as your favourite short-form anime!
Just perpetually screaming about fictional boys