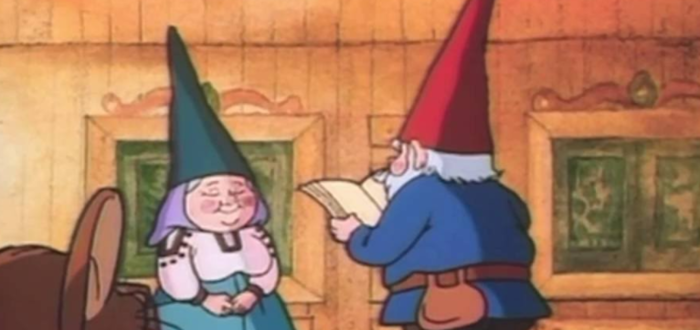 Writing this article has proven a bit of a task. While cartoons on Saturday mornings are a worldwide thing, I have little memories of those. I mostly remember watching cartoons before going to school in the mornings, at lunchtime, and after school.
The experience might have been different for me as well. Even though some cartoons are universal I'm sure that growing up in Spain might have made the experience different. Since I'm there for a month, I decided to go with a cartoon that was originally made in Spain. However, it proved popular enough to be shown in other countries, and apparently the Weinstein brothers hold the rights! This show is none other than The World of David the Gnome. Or David El Gnomo as it was called in Spain. It's over 30 years old but it's still well remembered here.
I've found several full episodes on YouTube (uploaded by the company itself!) so I'll be posting several of those in this article.
What was the deal with this one?
David was based on the book The Secret Book of Gnomes. Wil Huygen wrote the book and it was illustrated by Rien Poortvliet. This book told people about gnomes, how they lived and their customs. Claudio Biern Boyd, one of the founders of BRB International (these names are synonym with childhoods to many people in Spain), and took inspiration from it to create a show. This show had a message, but it never came across as preachy or condescending.
The show focuses on David, the titular gnome. He and his wife Lisa live under a tree and both are 399 years old. David is also a doctor, and most of the episodes are about him going on an adventure to heal another gnome or an animal. Things weren't simple because the trolls, who were the mortal enemies of the gnomes, were always causing trouble.
But David wasn't alone in this. Sometimes Lisa went along with him, but his usual companion was Swift the fox. Swift was David's best friend and preferred mode of transportation and David only needed to whistle for him to appear.
"No one is better because he is bigger."
I mentioned the message before, and it's a vital part of this show. This show tried to teach tolerance, respect and love of nature. This was apparent from the opening scene. The main theme from the Spanish version was sung from the point of view of David and in it he reminded people that he's small, very kind, seven times stronger than you and always in a good mood. The song seems different in English, which is a pity. The Spanish one is forever linked to my childhood. You can check it out here.
Apart from that, the show had the phrase above on the opening scene of all episodes. And it was something that struck me when I was a child. It was an important aspect of the show. But most of that message comes from David.
David was a doctor, which in a way seems like an unusual choice for the hero of a child's cartoon. He would do anything to help, no matter who it was. In fact, one of the episodes revolves around David trying to help a baby troll he has found. David was always at odd with the trolls in the show, but he still tried to help that baby. And speaking of which, his interactions with the trolls weren't the usual, David never fought the trolls, he always used his wits.
What else?
The show was first shown in Spain in 1985 and it lasted 26 episodes. But a while later it was shown in the UK and the US. In fact, Harvey Weinstein made a film adaptation in 1987.
Still, even if the show was shown way before I was born it proved popular enough. I kept catching reruns as I grew up and I got very invested in watching David's adventures. At least until I watched the final episode.
It's not that it's bad or anything, as a grown-up I think it was a fitting end. But as a small child I was in bits and I still think this is the most traumatising ending for anything ever.
Have any of you watched the show? I'm not going to lie, this walk down memory lane has made me feel nostalgic.
Have you watched this cartoon? Let me know in the comments!
Angry Spaniard, adoptive Irishman. Writer, reader, tea drinker and video game player/designer.