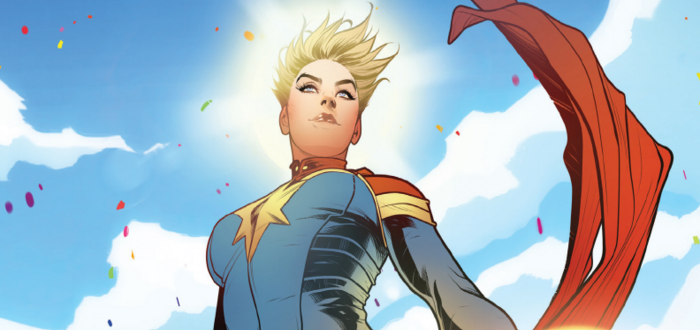 Marvel has just shared some seriously cool Captain Marvel news at their San Diego Comic Con panel. Not only will Captain Marvel, otherwise known as Carol Danvers, be squaring up with none other than the Skrulls, it's also going to be set IN THE NINETIES! It's everything we loved about GotG and more.
Marvel also shared some concept art at the panel, and needless to say Brie Larson looks absolutely amazing in Captain Marvel's costume, which obviously took inspiration from the comic redesign by Jamie McKelvie. We can't wait to see her up on the silver screen kicking ass!
At the panel, President of Marvel Studios, Kevin Feige, addressed the possibilities that come with having Skrulls in the mix. He said: "There's an entire section of our comics that deal with the Kree/Skrull War, and we haven't tapped into that at all. And we thought that would be an amazing, huge portion of mythology to belong to Captain Marvel."
Of course, this begs the question: Is one of our most loved heroes a Skrull in disguise?
Y'all ready for this? We're so ready for this!