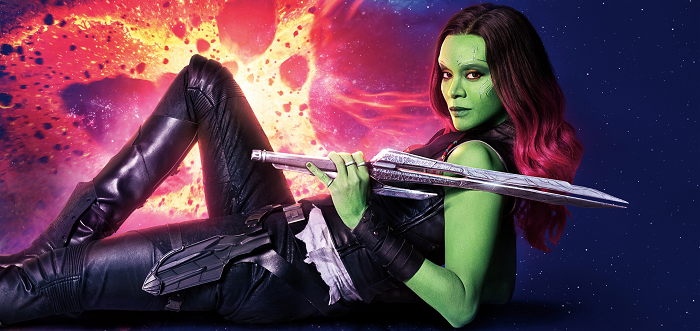 Watch Zoe Saldana's Gamora Makeup Process In Timelapse
One of the most amazing things about the characters in Guardians of the Galaxy Vol 2 and Vol 1, is the variety of different species and how each one looks so unbelievably flawless when it comes to the makeup application.
Zoe Saldana, Gamora, has spoken about how the makeup process was one of her least favourite things about making the film as she had to sit in the makeup chair for about 3 hours each time she was on set. Recently Saldana posted this process to her twitter but cut it down to a 38 second timelapse video so we could see exactly what it takes to become the amazing green skinned assassin, Gamora.
3hrs in 38seconds #GotGVol2 #Gamora pic.twitter.com/Yxrg6epzL6

— Zoe Saldana (@zoesaldana) April 29, 2017
Now I'm no Hollywood actress, but as a cosplayer I have tried to recreate Gamora's look without her prosthetics and believe me, it's hard as hell. My main tip is to use Mehron's Paradise Paints in light green, Kat Von D's Metal Crush in Iggy for contouring, Urban Decay's Warning from the Full Spectrum palette all for her makeup and green skin. I also use white eyeliner to mark out the scarring, followed by rigid collodion over the white which will help make your scars stand out. Put your green over the scarring and put silver Paradise Paints to make each scar to pop and really shine on top of the green. Make sure to seal everything so it doesn't rub off! I used Got2B Glued hairspray to make sure the green stayed put and it worked. The whole thing takes about two hours to do, but I'm working on taking that down by about a half hour or so.