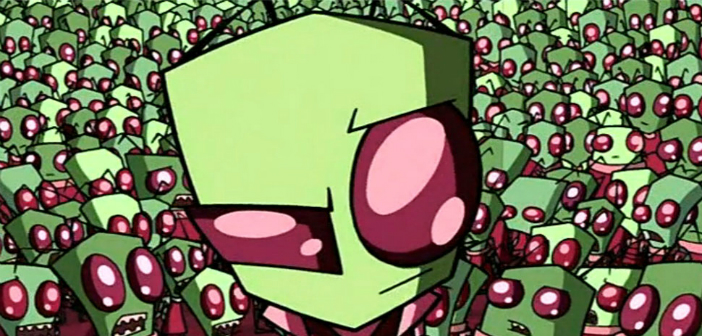 After just over ten years, Nickelodeon's Invader Zim will return as a TV movie. Yes, you heard right – Invader Zim, created by Jhonen Vasquez, will receive a 90-minute film according to Entertainment Weekly. The cartoon cult-classic follows an alien named Zim who comes to earth in an attempt to study the human race to ultimately take over the planet.
The show originally ran for one season on Nickelodeon from 2001 to 2002, and received a revival season in 2006. Following suit with shows like Hey Arnold! and Rocko's Modern Life, Invader Zim is the latest to receive a film announcement. Excitingly for fans of the show, the original voice talents of Richard Horvitz as Zim, Rikki Simons, as Zim's robot companion GIR, Andy Berman, as the paranormal investigator Dib, and Melissa Fahn as Dib's sister Gaz will return.
It has not yet been confirmed if Vasquez will return to run the show. However, he continuously uses his Twitter page to refer to the series. And despite this post from 2013, claiming the show would be gone forever, we can only wait before he confirms his return!
It is too soon to give an estimated release date yet, but Hey Arnold! will release later this year and Rocko's Mordern Life is now in production.
Looking forward to a reboot of Invader Zim? Let us know in the comments below!
Doing a little of this, a little of that. If you see me holding a camera, run!