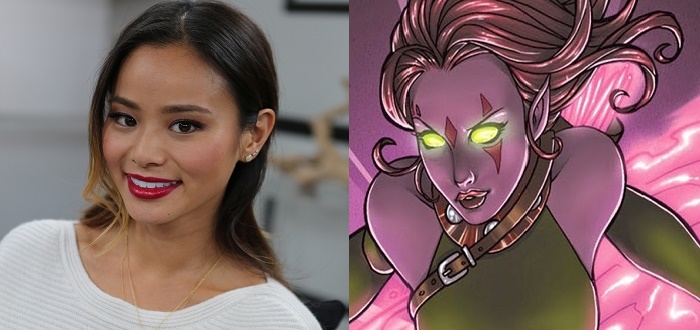 The casting for the upcoming untitled X-Men TV series at Fox is just getting under way. Last week it was announced that Blair Redford would be joining the cast as a character named Sam. This week we have our second mutant cast in the form of Jamie Chung.
Jamie Chung will be portraying the character Blink for this series. Blink was previously seen in X-Men: Days of Future Past as portrayed by Bingbing Fan. Jamie is no stranger to a television series based on a comic book, nor a stranger working for Fox on one. She was recently seen on Gotham as Valerie Vale in the Mad Hatter story arc.
The Blink character's real name is Clarice Fong and Heroic Hollywood has a description of her character for the show. "[She] is described as sarcastic, lively and a bit of a tomboy. Her naturally strong exuberance has taken a hit after a sudden and traumatic upheaval of her life. As she adjusts to the new people and places that are suddenly "home," she is slowly becoming herself again."
The untitled project has Matt Nix (Burn Notice) has it's showrunner with Simon Kinberg as writer, Lauren Shuler Donner, Jim Chory and Jeph Loeb as executive producers. Directing the pilot episode is X-Men franchise alumni Bryan Singer who will also be an executive producer on the show.
I think Jamie Chung will be a wonderful addition to this show. She has already shown wonderful talent on both Gotham as Valerie Vale and on Once Upon a Time as Mulan. Looking forward to seeing what Matt Nix and his X-Crew have in store for all of us moving forward.
What do you think of the casting announcements thus far? Are you looking forward to this new X-Men series? Let us know in the comments below.