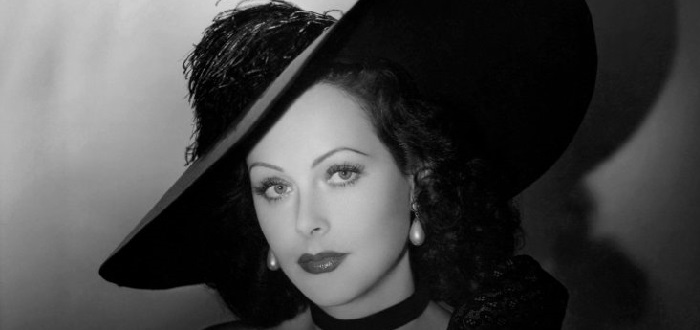 Hedy Lamarr – Nerd Icon
Alrighty, so, something that really rustles my jimmies, and it's something that I've been seeing more and more of in recent years, is when people are excluded from a group or subculture because of some part of who they are. It's an issue that's become glaringly obvious in most nerd subcultures. This is probably because they've become more mainstream and their fanbases are becoming increasingly diversified.
I won't be getting into the how's or why's but, lately, the issue has become shockingly bad. Just look at the run-up to the release of Ghostbusters and the cases of superheroes handing the mantle over to newer, more racially diverse characters. I tell ya, gimme one reason why X people shouldn't be welcomed into Y, and I'll give you a reason why Y couldn't exist as it does without contributions from X. Without further ado, I give you Hedy Lamarr!
The Actress
I'm not the first person to write about Hedy Lamarr and I won't be the last. Lamarr is well-known for her body of work in Hollywood as well as being recognised as an inventor. In short, she's so far above most people on the social pole that she might as well be on a totally different pole. She was born Hedwig Eva Maria Kiesler in Austria on January 14 1914 and began her acting career in the 1920s. It was during this period, in the film Ecstacy, that she became the first woman to portray the female orgasm on-screen.
Thanks to her fame as an actress, and her husband's profession as an arms dealer, she was often in attendance at social functions with Hitler, Mussolini and a number of high-ranking military scientists. It was during these engagements that her interest in science and technology was supposedly sparked. Still, it would be years before she got to really indulge in this newfound interest.
After a few years, Lamarr had grown tired of living with her cruel husband under Nazi rule, so she escaped to Paris. Some reports say she escaped by hiring a house maid that resembled her, then disguised herself as that same maid and left, though none of this is confirmed. If it is, we can go ahead and add covert ops to her long list of talents. Louis B. Mayer found her in Paris and picked her up for Metro Goldwyn Mayer, bringing her to America when he returned. Soon enough she was cast in Algiers and was given the title of 'The Most Beautiful Woman in Film'.
Throughout the next decade she starred in a number of the most popular Hollywood movies of the time including Boom Town, White Cargo and Samson and Delilah. It was during the height of her career in movies that she returned to her interest in science and technology, claiming that she had grown bored of endlessly learning short lines.
The Inventor
Lamarr made a point of inviting her friend George Antheil to a party
she was hosting and it was at this gathering, much like the social events she had first found her interest, that her life went back on the path of invention. Together, the pair worked on a new wireless communication technology. They figured that torpedoes, a powerful but inaccurate weapon, would be much more useful if they could be controlled via radio. They were also aware that radio signals could be intercepted. As a result, they set about working on technology to prevent this signal jamming. The end result was a signal that moved from frequency to frequency, more or less randomly. I won't go into detail here, but I find it fascinating how the idea evolved.
Lamarr and Antheil's communication technology was widely used by the Allies in World War II and, along with Alan Turing's Enigma, aided their defeat of the Nazis. Something Lamarr had in common with Turing is that she would receive little credit for the invention until years after its creation. The Navy rejected it at first, only uncovering her part in the invention years after the war had ended, and even then, no credit was given to the original inventors. Eventually, in the 1980s, when told they would finally receive recognition and an award for their contribution, Lamarr, being a badass, replied: "Well, it's about time."
"But what does it all mean Basil?"
Well, that's all very informative… but what does it have to do with being a Nerd Icon? Well, Hedy Lamarr's contributions to the world of science are a direct precursor to modern mobile and wireless technologies. The Wi-Fi in your laptop or mobile? Based on Lamarr's work. The Bluetooth in your wireless controller or headset? Based on Lamarr's work. The security features in your phone that stop the neighbours picking up all the town gossip? Based. On. Lamarr's. Work. None of it could exist as it does without her work way back in the day.
I've often heard it said that 'Women have no place in games or technology, what what!' by some guy, somewhere on the internet, with a large moustache and a tumbler of scotch… probably. It niggles away at me every time I see it, and the pit in my patience that it has created is getting bigger and bigger. I simply cannot fathom the ignorance of the absolute Cro-Magnon who would spout something like that, without realising that the vast majority of the technology we use today would not exist as it does without the contributions of a woman.
…Oh, and she was also the inspiration for Catwoman.
"Compromise and tolerance are magic words." – Hedy Lamarr; Actress, Inventor, Escape Artist, Most Beautiful Woman in the World.