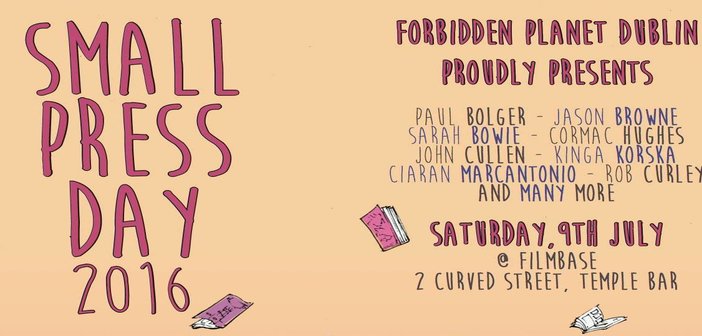 Small Press Day – 9th July – Event
Saturday 9th July, Forbidden Planet Dublin are organising 'Small Press Day' as part of an international initiative to not only highlight but celebrate the work and drive of self-published and independent comic book creators.
The event which will be hosted in Filmbase, Temple Bar Dublin will focus on turning a spotlight on the work of Irish comic book artists and writers such as Paul Bolger (The Hound), Jason Browne (The Wren /Thimble/ Artos), Ciaran Marcantonio & Cormac Hughes (Lightning Strike Comics), Kinga Korska (Brain Fetish), John Cullen (NHOJ Comics), Sarah Bowie (Lidless Comics) and Rob Curley (Atomic Diner).
Small Press Day is an opportunity then to embrace that grassroots ethos and the communicative power and accessibility of comics.
Many more creators from across the country will be present, displaying and selling their work. As well as trading tables, panelled discussions will be organised and hosted by the trio that is 'The Irish Pubcast'.
For more information on the day and for updates be sure to check out the official event page on Facebook.If you'd like to learn more about Small Press Day then click here to visit the official website! Be sure to follow Forbidden Planet Dublin on Twitter too for event updates!
_______________________________________________________________
Want to highlight your upcoming event or project to thousands of readers? Want to nominate a cosplayer or comic? Player Select is your chance to advertise your project or something you feel our readers should know about!
If you'd like to nominate something or someone for 'Player Select' for July then get in touch: editor@the-arcade.ie
Editor-in-Chief, part-time super villain and hoarder of cats. If you can't find me writing, I'm probably in the kitchen!