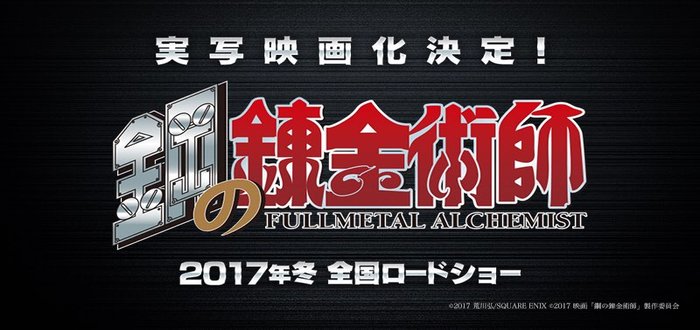 Live Action Fullmetal Alchemist Film Officially Announced
The time has come and official announcement came from Warner Brothers that there will be a live action adaptation of the Fullmetal Alchemist manga by Hiromu Arakawa. The film is set to premiere in the winter 2017 in Japan with film to begin at the beginning of June in Italy while it is set to wrap in Japan in August.
Fumihiko Sori will take the directing seat and although he could not yet disclose how Alphonse will be represented in the film he has said when asked about adapting from the manga source material:
"I want to create a style that follows the original manga as much as possible. The cast is entirely Japanese, but the cultural background is Europe. However, it's a style that doesn't represent a specific race or country."
Also announced was the first wave of casting for the film with Ryōsuke Yamada (Live Action Assassination Classroom) taking on the role of the Fullmetal Alchemist himself Edward Elric, Dean Fujioka (Live action Happy Marriage!?) as Roy Mustang and taking the role of Winry Rockbell is Tsubasa Honda (Blue Spring Ride's).