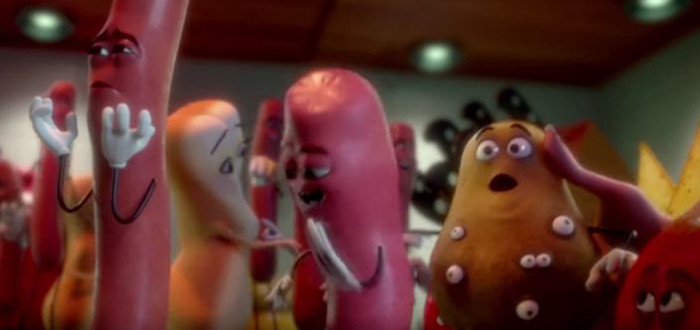 First Trailer For Seth Rogen's Sausage Party Is Demented
Seth Rogen recently took to Twitter to share the trailer for his new animated movie Sausage Party after its inaugural screening at SXSW.
Being about talking food, the trailer starts out looking gentle and charming. Then, a potato screams bloody murder as he's skinned alive for dinner. Suddenly, Sausage Party's R-rating seems altogether appropriate.
Directed by Conrad Vernon and Greg Tiernan from a screenplay by Rogen, Evan Goldberg, Kyle Hunter and Ariel Shaffir, Sausage Party has all the makings of a modern comedy great. The setup itself is hilarious on-paper, like an adult Toy Story, but then the cast makes it a real must see. Rogen is joined by the vocal talents of the likes of Paul Rudd, Edward Norton, Michael Cera, Kirsten Wiig and Salma Hayek, among a whole bunch of others.
The official synopsis reads:
Sausage Party is about one sausage leading a group of supermarket products on a quest to discover the truth about their existence and what really happens when they become chosen to leave the grocery store. The film features the vocal talents of a who's who of today's comedy stars – Seth Rogen, Kristen Wiig, Jonah Hill, Bill Hader, Michael Cera, James Franco, Danny McBride, Craig Robinson, Paul Rudd, Nick Kroll, David Krumholtz, Edward Norton, and Salma Hayek.
Sausage Party will gatecrash cinemas August 11.