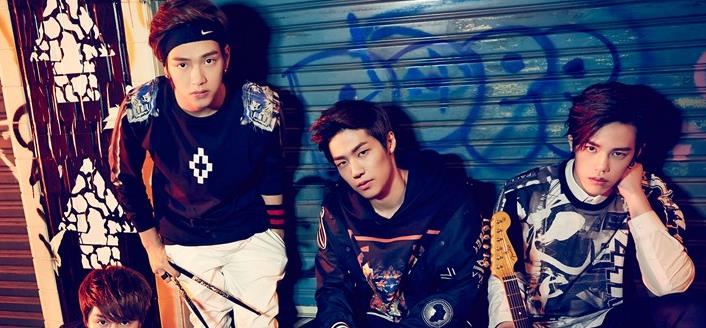 K-Pop Rookie Groups To Check Out! (Part 1)
As an older fan, my journey into the K-pop world started a (very) long time ago. It also doesn't help that the K-pop world moves very fast. So sometimes I find it very hard to keep up with the rookie groups.
The last rookie group I really got into were B.A.P when they came out, but they came out in 2012! I might know a few songs here and there from a few groups (are BTS still rookies?!) but I am very behind – I'm not with it anymore!
So here is part 1 of Kpop Ireland member Linda's list of rookie Kpop groups you should keep your eye on!
1) N.Flying
To start off, I'll introduce N.Flying, a band who debuted earlier this year under FNC Entertainment. The group consists of four members and their debut song was titled 'Awesome'. They recently released their second song titled "Lonely".
2) MADTOWN
MADTOWN is a seven member group that debuted in late 2014 under J.Tune Camp Entertainment with the song 'YOLO' which stands for "You Only Live Once". They recently released their new song OMGT' which stands for "Oh My God Thanks".
3) BIGFLO
The next group I'm introducing is BIGFLO, who recently added a new member to make a six member group. They debuted in mid-2014 and are under HO Entertainment. They debuted with the song 'Delilah' and recently finished their promotions for their new song 'Obliviate'.
4) B.I.G
Next up is B.I.G which stands for "Boys In Groove". This group also debuted mid-2014 under GH Entertainment with the song titled 'Hello'. They recently released the music video for their comeback song 'Taola'. You can also check out Kpop Ireland's interview with them here!
5) Day6
Day6 are a 6 member group who recently made their debut under JYP Entertainment with the song 'Congratulations'. Since their debut, the band has not yet appeared on any music broadcasts and have been promoting themselves by performing on the streets of Korea.
6) HALO
The next group I'm going to introduce is probably not very well known to most people so I'm going to try and change that. This group is a six member boy group called HALO, who debuted mid-2014 under AYIN Holdings. They debuted with the song 'Fever' and not too long ago they ended their promotions for their latest song 'While You're Sleeping'.
I hope you enjoyed all the groups in this list so far! Do you have any favourites? Let us know in the comments!