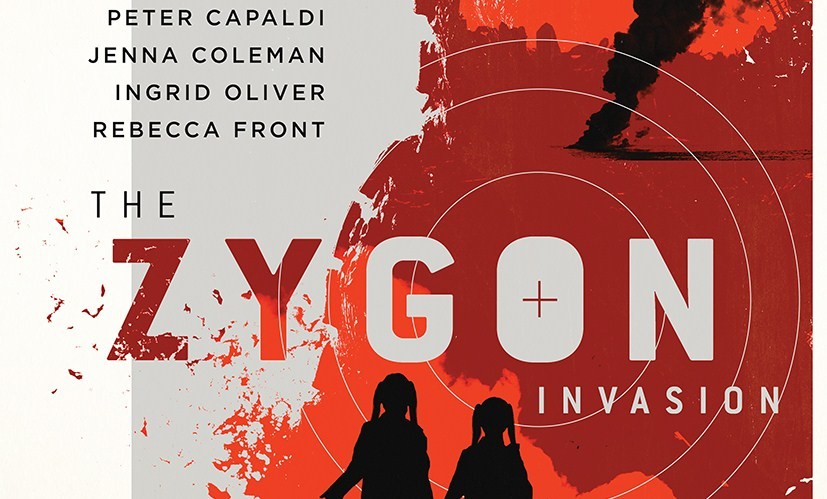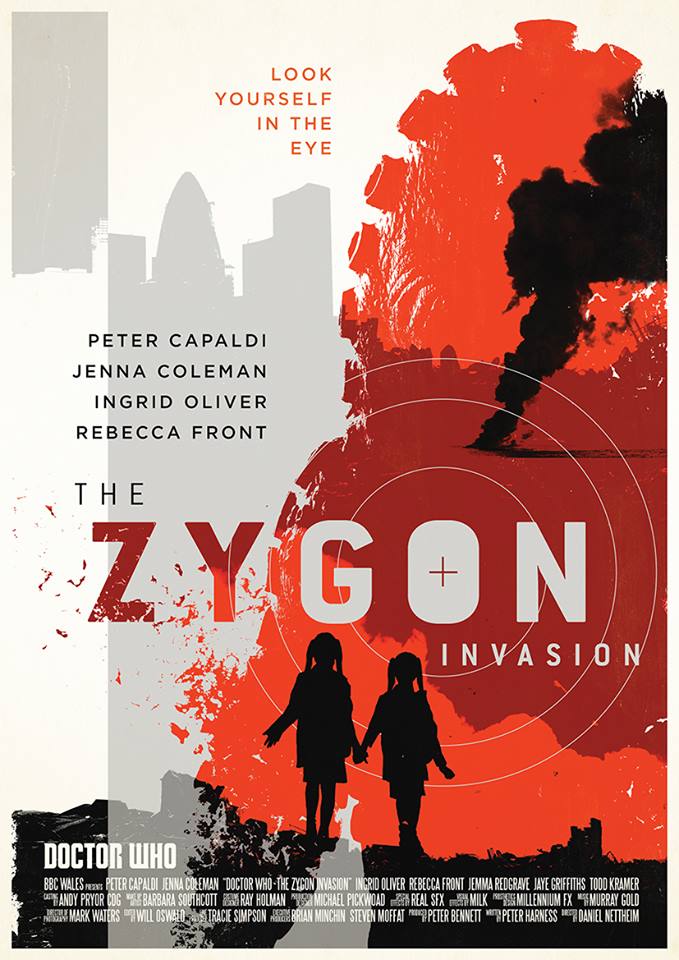 Writer: Peter Harness.
Director: Daniel Nettheim.
Main Cast: Peter Capaldi, Jenna Coleman, Ingrid Oliver, Jemma Redgrave.
Hello, Whovians! From our last two-parter we're moving back to the present for a long awaited sort-of sequel! Beloved friends and foes alike are making their return and the Earth is under a most insidious siege indeed…we'll not waste any further time here and get right into it! This is 'The Zygon Invasion'!
WARNING: POSSIBLE MILD SPOILERS AHEAD!
For those keeping track of these reviews at home, you'll note that I've made a point of Series 9 thus far consistently knocking things out of the park as far as opening sequences go, and this episode is no exception at all. 'The Zygon Invasion' opens with a rather unheard-of (for Doctor Who) recap of the events of 'The Day of the Doctor', specifically insofar as the Zygon subplot was concerned. Aside from a fan-pleasing cameo from David Tennant, Matt Smith and John Hurt's incarnations of everyone's favourite Time Lord, this also reminds us of the hastily-negotiated peace treaty brokered by the Doctors between human and Zygon. The perspective swiftly shifts into showing us fan-favourite UNIT "sciencey type" Osgood, alongside her Zygon duplicate (though tellingly does not specify which is which). The two are recording a sort of log regarding the breakdown of the treaty, explaining that there are currently twenty million Zygons secreted across Earth in human form. A disruption in their uneasy peace would be, in Osgood's words, "the nightmare scenario", and the two have an object given to them by the Doctor called "the Osgood Box" for use in such a situation (those recalling the Moment may be feeling slightly uncomfortable right now!). We see a brief glimpse of the grave of one Osgood (murdered at the Master's hands in Series 8's 'Death in Heaven') and then havoc immediately ensues as we move out of flashback. Zygons and humanity are at war, Osgood is missing, and the nightmare scenario is nigh…
It's an incredible opening, to be quite honest, punching hard right off the bat and that is a trend that 'The Zygon Invasion' keeps up in full force. Funnily enough on a slight tangent to this article, I recently went to see James Bond's latest outing in Spectre and this episode hews surprisingly close to that style of story, so fans of spy flicks and a great deal of tense action interspersed with investigation will likely be in comfortable hands with this tale! It's a globe-trotting adventure that takes place in multiple locations; good old reliable London, New Mexico, and the fictional locale of Turmezistan. It's not often that Doctor Who covers a few Earth-based places in a single story so the change is quite refreshing to see! There's rumours of a dangerous superweapon, hostages that need finding, and even an honest-to-goodness (albeit brief) interrogation of an enemy aboard a plane! Writer Peter Harness definitely had more than a few of the classic high-octane thriller tropes in mind scripting this story, and it shows throughout. It's quite packed to a certain degree, with at least three subplots running alongside each other at all times, giving each of the characters something to do and letting each take centre stage.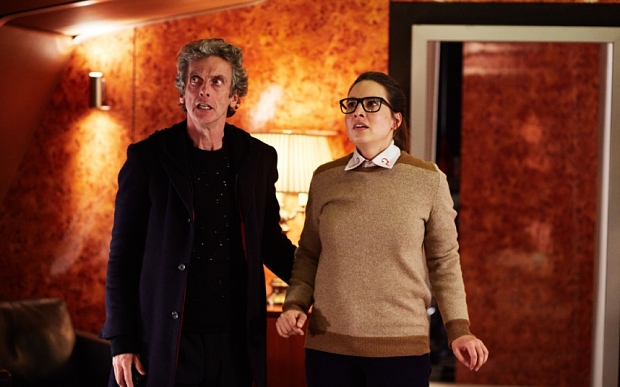 The above paragraph may have made this sound like rather a lighthearted story. It's not. 'The Zygon Invasion' takes an enemy that have traditionally been seen as just another big scary rubber monster as far as Doctor Who is concerned, and ramps up their more subtly horrifying elements to their extreme. Plenty of Doctor Who episodes have dealt with an invasion by whatever species has decided to dislike humanity that week, but not since the Silence made their entrance has an alien race so casually accomplished an infiltration of our world. Paranoia and suspicion are the real foes of the story as the ability of the Zygons to shapeshift turns humanity against itself, eating itself from the inside-out. The likes of UNIT become trigger-happy maniacs in this tale (which the viewer may take as either a mark of the Zygon effectiveness or a bit of character derailment; I leave it to you to decide).
In this, Harness draws massively on the real-life fear of terror attacks and all that has come with them to the point where the parallels are actually borderline uncomfortable in their sheer lack of subtlety (the use of hostage video scenes in particular is bone-chilling). I would say that there are shades of the recent shockingly xenophobic stance on immigration many have taken in the way the Zygon situation and their own little civil war is presented in the tale but it's not a case of there being shades; rather, it's made explicitly blatant. I suspect a few people will take issue with this episode, a situation which may remind one of the last Doctor Who episode written by Harness, 'Kill the Moon', and the ire it drew for what could easily be seen as its take on the pro-choice debate. Harness has quite a political and social leaning with his stories, evidently, and neither he nor Doctor Who are afraid to show it. It's a good thing, quite frankly; staying topical like this is a big part of how Doctor Who has lasted almost 52 years in the first place.
…Blimey. Let's step back into the usual review routine now, shall we? Mine are supposed to be the funny ones!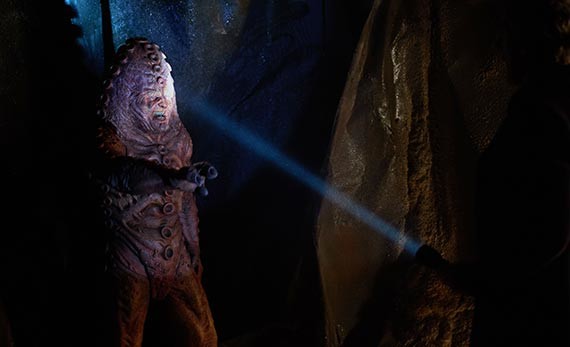 The cast of the episode is quite a fantastic one, and deserves serious commendation for its presence of good female roles (something Doctor Who has been a wee bit lacking on in years of late, as I'm sure you've all noticed). Aside from the Doctor, every other main part in the episode is played by a woman and indeed, there are only three male speaking roles in the entire story. We'll start with the usual duo, and open with Peter Capaldi as the Doctor. This episode brings his more humorous side to the fore, despite the rather dire circumstances Earth has found itself in. As ever, Capaldi's sense of timing and sheer dry wit makes the Doctor's attempts to lord it over UNIT and keep the situation under his control rather amusing. His bitterness shines through in a couple of scenes, however, particularly given that it was one (well, three) of his prior incarnations that caused this problem. His interest in Osgood is a noteworthy character point, again reminding the audience of the companion that could have been.
Returning (well…kind of) from her hiatus in last week's story is Jenna Coleman as Clara Oswald. Major props to Coleman's performance in this story must be given, but unfortunately for spoiler reasons I can't actually say exactly why that is. Suffice it to say, she steps outside of her comfort zone and brings some rather different emotions to play in the episode. Interestingly, the episode makes something of a metatextual joke regarding the perception of Clara's characterisation and its inconsistencies. You'll have to watch to see it but it's quite amusing indeed! As the tenure of Clara Oswald on the show grows ever closer to its end, those keeping watch for hints on her inevitably-unfortunate exit will likely pick a few choice moments out to speculate on!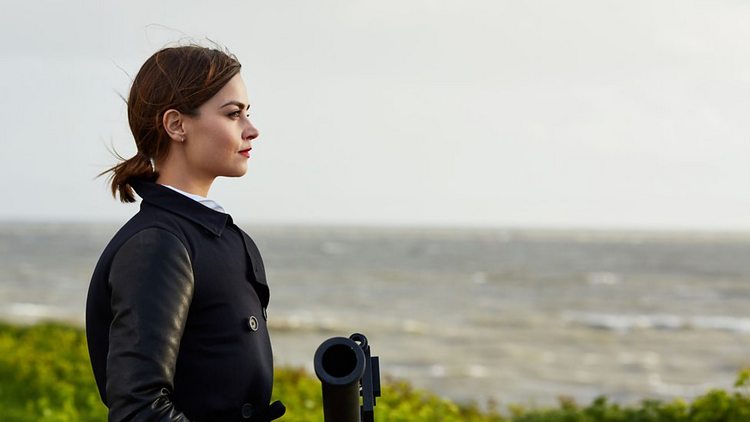 'The Zygon Invasion' also brings UNIT back! They're much more of a presence in this story than they were in Series 9's opener, dominating the screen time as a whole. We'll open with second-generation hereditary badass Kate Stewart, played by Jemma Redgrave with all of her usual cold efficiency and barely-subdued temper that embodies the Brigadier's daughter. She's as prominent a force in this story as we've come to expect, more than familiar with Zygons at this stage, and she sets out practically alone to deal with the threat to her world. Making her return at last is Ingrid Oliver as fan-surrogate Osgood, back with a new Doctor-inspired outfit and a new purpose! The episode shies away from telling us which Osgood is the one that survived the Master's murderous whims, a good move on its part. Uncertainty, after all, is the name of the game, and it keeps the story's message strong. Though she has not gone travelling with the Doctor, she seems almost to be a confidant of his in this story, and his trust in her is rather noteworthy for such a habitually-mistrusting individual. Her full part in the story will, however, evidently only be played in the second half this Saturday so watch for that!
All in all, 'The Zygon Invasion' is…an odd episode of Doctor Who. It's quite a mature one indeed, taking advantage of the show's later timeslot, and certainly gives a lot to think about. Despite this, it can come across as quite slow-paced and not in the good way, and definitely feels like a set-up episode for its own second half.
A worthy watch indeed, and a harrowing story
Join us next time for the second part of this two-parter, 'The Zygon Inversion'!