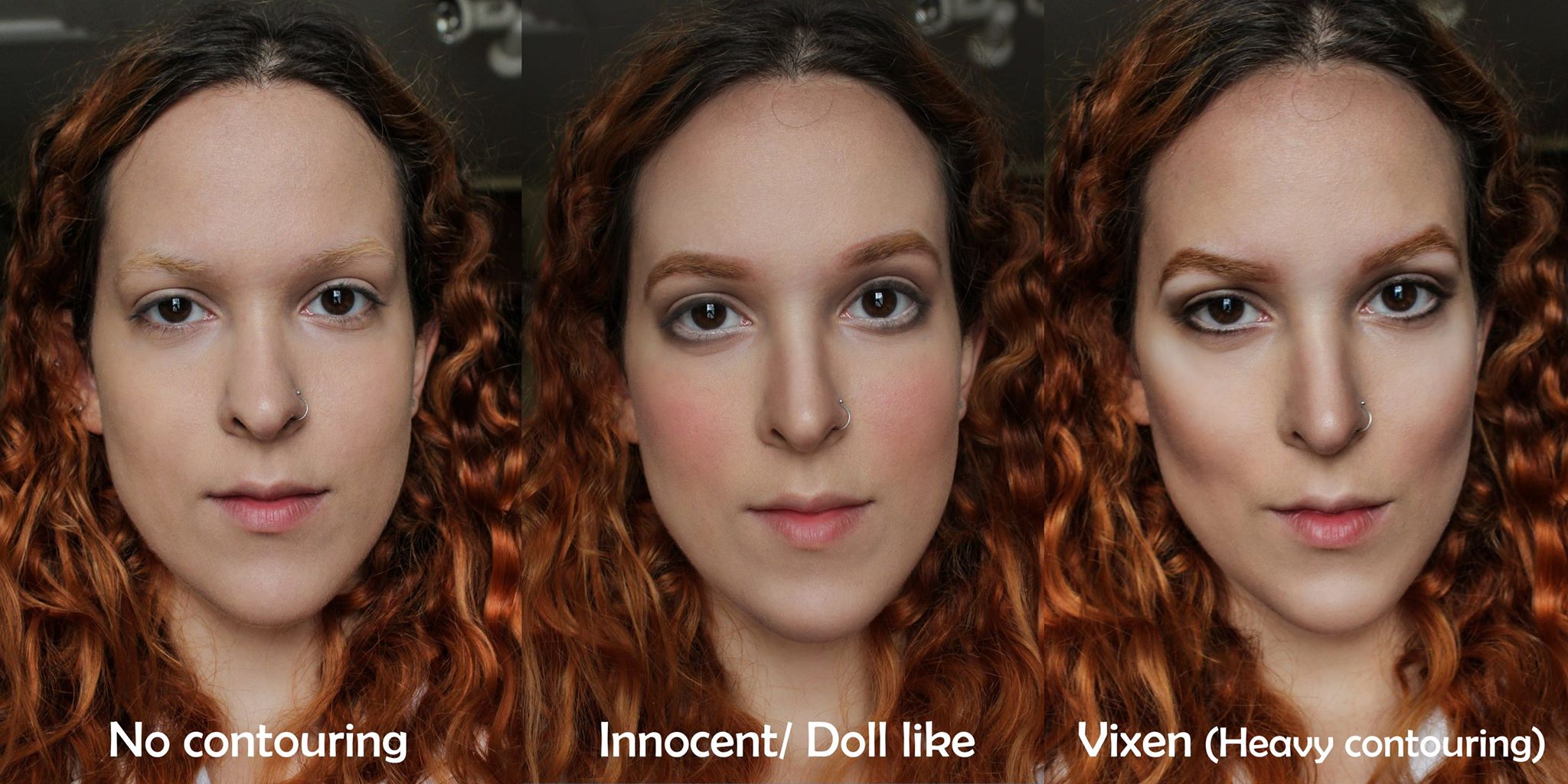 The one rule of cosplay is: there are no rules! And it's super important to remember it, too. Not everyone cosplays for the same reasons and it's something we must respect. While some do it for the craftsmanship, others do it to have fun with their friends, and others do it to try to bring a character to life as faithfully as possible. No matter your reasoning behind it, today I'm going to give you some tips and tricks for if you want to create an illusion and bring out or even change your features. It's the so called contouring we've heard so much about from celebrity makeup trends and whatnot. But my aim here today isn't to turn you into a Kardashian, it's to show you just how much transformation power makeup can have.
FACIAL CONTOURING
Contouring can serve many purposes. Not only can it carve out cheekbones that could cut glass, but it can also be used so you simply don't look washed out in photos. This is especially important for cosplayers who plan on getting their photos taken. If you apply concealer and foundation to your face, it will even out you skin tone, making your face look somewhat flat. A bit of contouring goes a long way to give volume to your face so flashes and lights won't wash you out.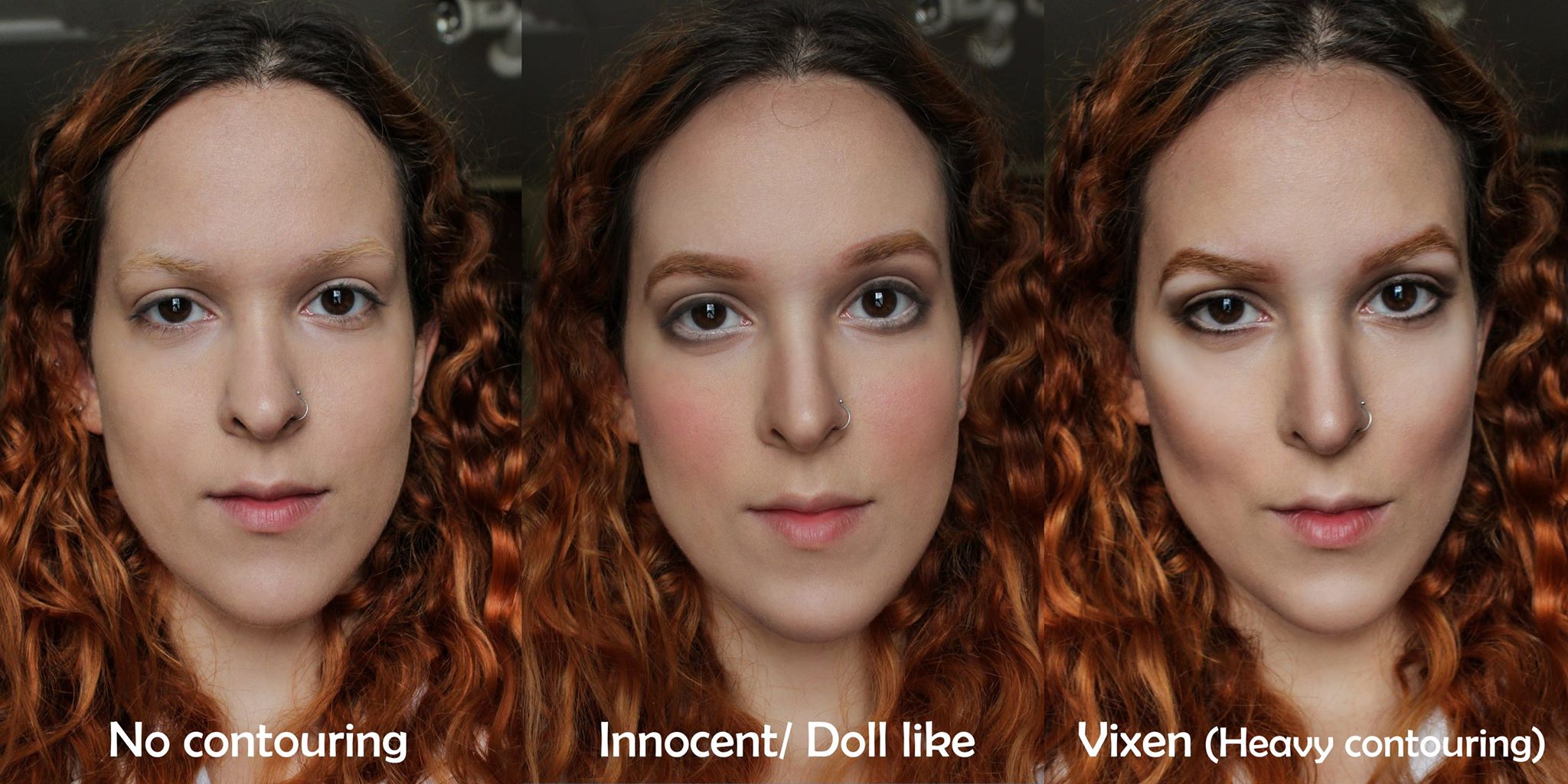 You can also use it to change your features, making your face look thinner, rounder, longer, etc. depending on your characterization needs. The principle of contouring also applies to things like old age makeup, sick or undead makeup, etc. It's all in the shading! Basically, what you want to make look deeper is where you darken, and what you want to pop out is where you lighten. The possibilities are endless.
This is what everyone traditionally knows contouring to be like: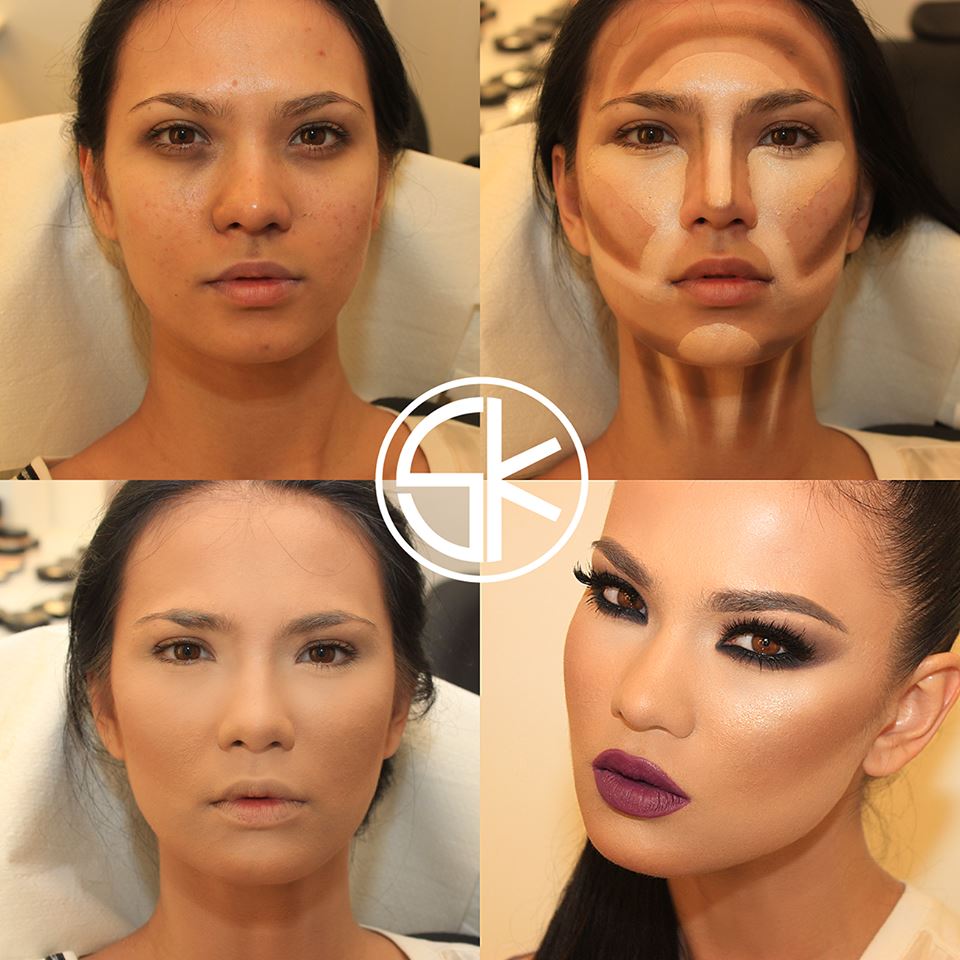 But contouring is also this: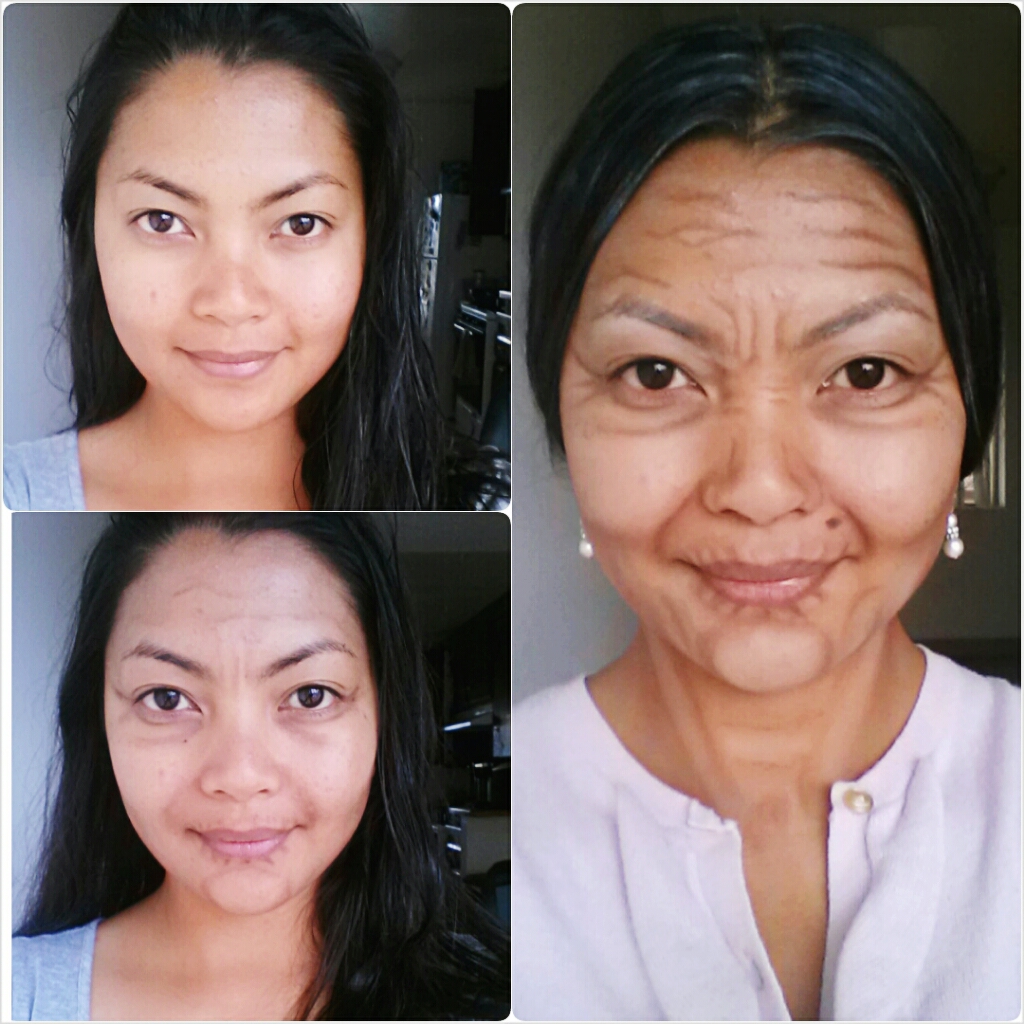 And this: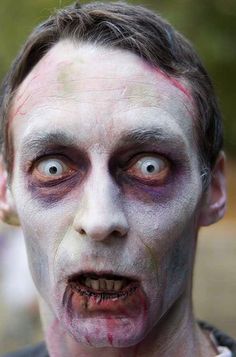 It's all about playing with a false sense of volume. All you have to do is pay attention to anatomy and follow the hollows of your own bone structure. Poke and prod at your face if you need to!
BODY CONTOURING
Contouring can also be taken down bellow the neck and used to enhance your other features, too! This is great if you're portraying an especially fit character and you just want to enhance your muscles, or even if you're crossplaying and want to create some cleavage.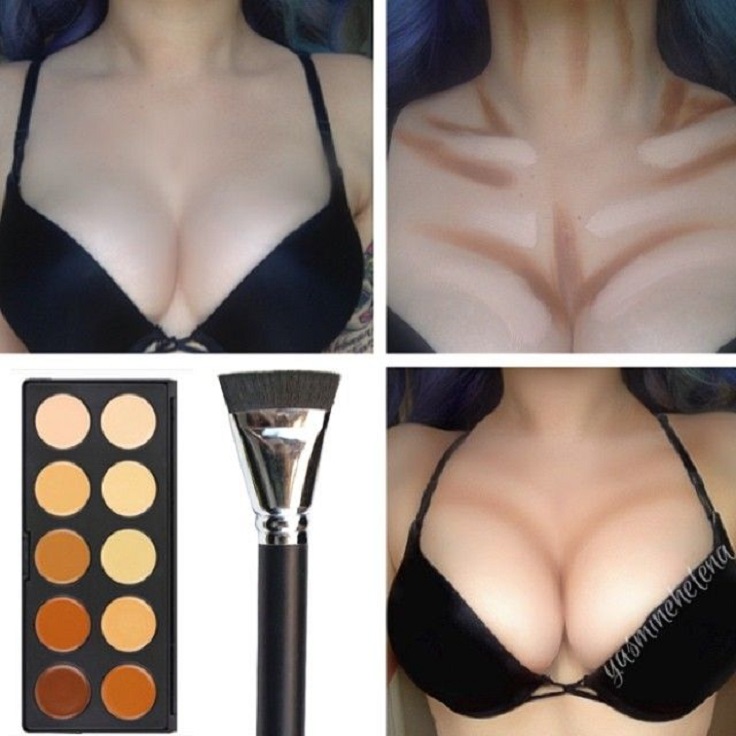 It is also especially good for enhancing arms and abs, like in this demonstration here:
So don't be afraid to cosplay all those fighting characters, you can just create guns if you don't have them naturally.

DIFFERENT PRODUCTS
Now how should we go about doing all this? "What do I use?!", you might be yelling at the screen. Fear not, I'll explain that, too.
Products come in all shapes, sizes, and textures but no matter how different they are from one another, they will always be one of two things: either a cream or a powder.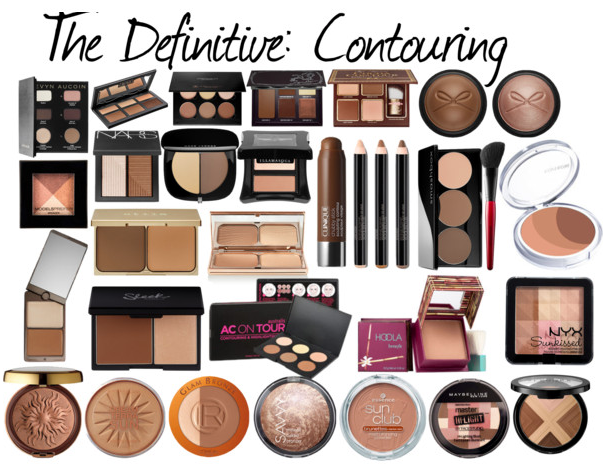 Using cream products are very popular amongst the adepts of the Kim K style of contouring. I shy away from them for one simple reason: darker tones of foundation or concealers almost always have an orange undertone. Orangey-browns do not make for a good contouring colour, what you need is an ashy grey-brown that will emulate natural shadows better. Foundations or concealers lighter than your skin tone, however, are a great way of highlighting for a natural finish.
A lot of people also use bronzer as a contour colour and that is also a big no no! Bronzers are meant to make you look sun-kissed, so they are orange-based. If you look at the shadows that form naturally on your body, you will see they do not have orange undertones. It is hard to find products that have the right tone, even in contour palettes, so sometimes you must resort to other products, like eyeshadows. I always have a trusty grey-brown eyeshadow handy for whenever I want to contour. With eyeshadows, you usually have a better selection of colours and they only cost a fraction of the price of what contouring products would cost you.
Now, if you do decide to use cream products when contouring, remember to always set it with a powder after. You can just use a translucent powder to set it all once you're finished, or you can enhance the contouring done with the cream products with a coloured powder product on top.
Don't be afraid to experiment with contouring, it can be loads of fun and can make a drastic difference in your finished look!
Have you ever done contouring for cosplay? Or have you always wanted to? Let us know in the comments bellow!