Style Saturday: We Are the Crystal Gems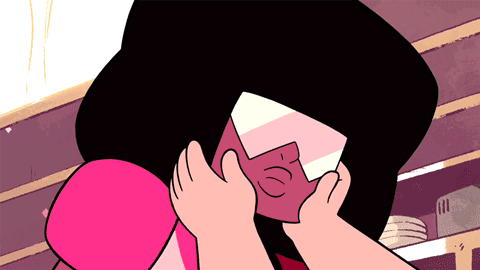 If you haven't yet been captivated by the colourful world of Steven Universe, you don't know what you're missing. What may seem like just another cartoon created for kids to pass the time, is actually a moral lesson-filled roller-coaster of feelings. It explores things like the importance and difficulties of relationships (including same sex relationships), identity, social norms, and many other factors of life.
Today I was inspired by some of my favourite gems for these two looks.
GARNET
It's impossible not to be captivated by Garnet's striking visuals and mysterious demeanour. Her 80's vibe translates perfectly when doing a super contrasting graphic eye look. When trying to capture the Crystal Gems' essence, stick with bright bold colours and feel free to mix matte and shimmery finishes, since they're coloured in a very flat manner, but are precious stones none the less.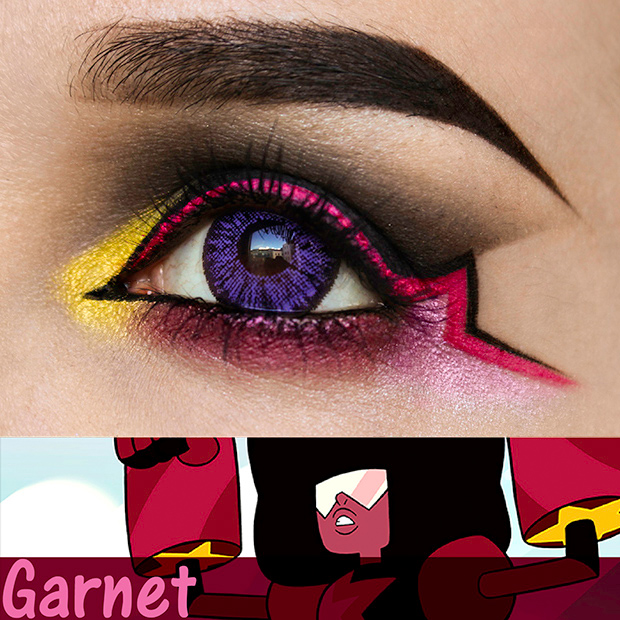 To get your black eyeshadow truly black (and not just a muddy dark grey), use black gel liner as a base underneath your shadow. That will provide some colour on the lid and also give the eyeshadow something to stick on to.
For really graphic liners like this, I recommend using a liquid liner instead of a gel, you will get crisper and cleaner lines with a liquid product.
AMETHYST
For this next one, I may be a bit biased since Amethyst is my birth stone, and I swear any resemblance between me and her are purely coincidental! Amethyst's most prominent feature is her lips. She's got very full but almost cat mouth-shaped lips. I tried to mimic her mouth shape by using dark purples to create shadows and give the impression of fuller lips.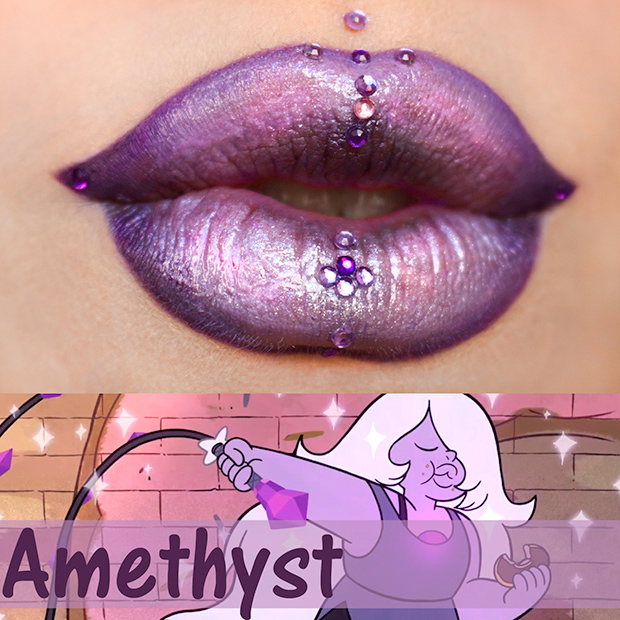 You don't have to limit yourself to lipsticks when going for a colourful lip like this, here I used some of the NYX Jumbo Pencils, which are traditionally used on your eyes.
I added a pink shimmery gloss on top, to give it more dimension and a bit more sparkle, so my lips would resemble the stone.
I stuck the rhinestones directly on the lip gloss, but be warned they do tend to slip and slide like this. If you want them to be secure and not budge, apply a bit of lash glue on the back of the stones.
Who's your favourite Crystal Gem? Let us know in the comments bellow!