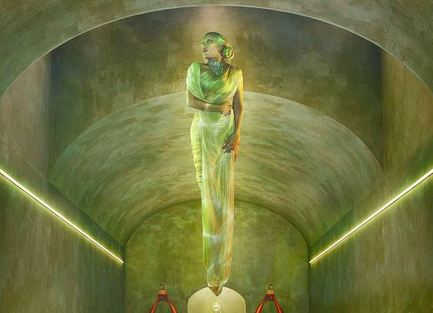 American Horror Story: Hotel already looks to be as intriguing and creepy as its previous incarnations. One of its creators has even confirmed that the new series will be even darker than previous installations. But fear not! Lady Gaga has released a new promotional image on her Twitter showing that the Cortez Hotel contains a glamorous swimming pool!
We have a lovely pool here at The Cortez #AHSHotel #9days pic.twitter.com/C7b1Dw0n3f

— Lady Gaga (@ladygaga) September 28, 2015
Flanked by sinister Village of the Damned-esque munchkins, serpentine ladders and an elevated Lady Gaga, the image seems to contain religious or cult based undertones. Two of the figures in the pool also seem to be signifying blindness, looking downward and wearing dark glasses. In any case, the image promises that AHS won't be dialling back its powerful visuals.
The new series is due to begin airing October 7 on FX.