New Bombshells Ongoing Series Coming This July From DC Comics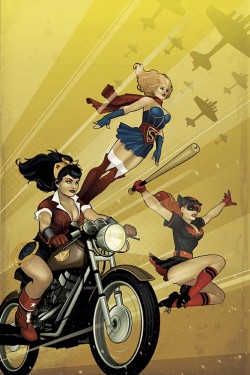 DC have dropped a bombshell on us today as they've announced that coming this July is an ongoing, digital-first series called Bombshells. Written by Marguerite Bennet with art by Marguerite Sauvage, the series is set in an alternate-reality version of WWII which sees Batwoman, Wonder Woman and Supergirl battle in the frontlines of the war, with many other DC heroines set to make an appearance as the issues progress.
"DC Comics' Bombshells is one of the wildest things I've ever had the pleasure to create — a story of the DC heroines, all the DC heroines, in a crisis that defines themselves as well as their generation," Bennet said of the series in a press release. "The series will explore war stories, romances, mysteries, heists, action adventure and horror in a way that only these characters could do — I cannot wait for this book to drop. Pun very much intended."
"When I was contacted to work on this book, I was attracted by the retro style of the statues, not to mention the most iconic female characters of DC are represented. And then when I read Marguerite's script, I was really excited and totally convinced by the story, the tone and the universe and time it will take place," Sauvage added. "I spent a lot of time searching for references to be as accurate as possible to the story and habits of this time period, but keeping in mind it's a parallel universe, so I can take some freedom on details."
The statues in question are part of an ongoing line that takes DC characters and dresses them up in outfits and uniforms from WWII that has proven hugely successful, and hopefully this series will add to that.
DC Comics' Bombshells will hit digital-first in July, with physical copies hitting shelves on August 12th.