First Look Fantastic Four Human Torch Suit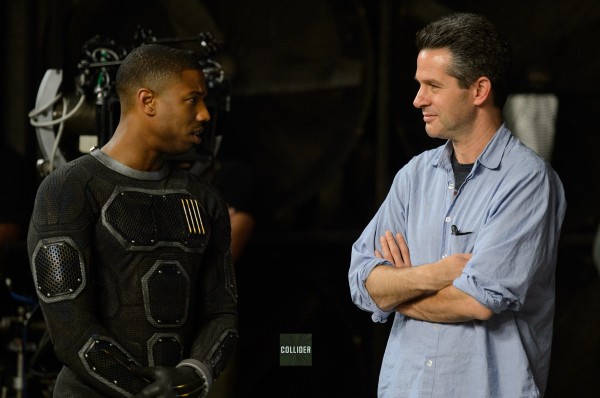 Collider.com landed an interview with Fantastic Four reboot director Josh Trank and it's screenwriter Simon Kinberg. As part of that interview the website were able to share some on set shots including the above one of Trank with Michael B. Jordan who is playing Johnny Storm.
Speaking frankly, I can't say I'm wowed by the overall look here!
Does anyone else see the similarity in the suit and a laser tag suit? The four metallic stripes on the breast are I assume the new logo for the group – it's grittier and edgier but it's nothing amazing and I really post-production editing adds some serious life to these ensembles.
The movie has received a lot of backlash from fans even before we've had a chance to inspect a trailer or a teaser of a trailer and up until now I've been somewhat steadfast in my optimism that this reboot could still make it – I'm just not so sure anymore looking at the suit but a part of me hopes I'm wrong.
A trailer for the Fantastic Four is imminent – stay tuned folks, this could get bumpy!
Editor-in-Chief, part-time super villain and hoarder of cats. If you can't find me writing, I'm probably in the kitchen!