Attack on Titan and Marvel Crossover UPDATE
Pop culture magazine Brutus based right out of Japan have revealed new details about the impending crossover between the Attack on Titan manga and Marvel comics.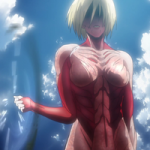 The next issue preview of Brutus 790 details that it will be featuring a What if…? Segment that will see the Avengers battle it out against the female titan in New York City – thus conflicting with information already provided earlier by C.B Cebulski that stated the crossover would be in Japan. A classic case of bait and switch or could this be completely mislead?
The issue will also contain thoughts of the crossover and the characters.
An added bonus is that the creator of Attack on Titan will be drawing a Titan sticker while also drawing the cover although it's uncertain who will put pen to paper so to speak and draw the crossover itself.
Brutus 790 will be on sale in Japan on November 15th – till then we speculate.