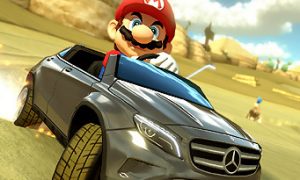 Launching on August 27th, Mario Kart 8 will be giving it's players a whole bundle of new features and downloadable content! This includes three Mercedes-Benz cars that can use in game; the modern Mercedes-Benz GLA, the 300 SL Roadster from the 1950s and the legendary Silver Arrow of the 1930s.
Coming out on the 22nd anniversary of Mario Kart, this is certainly a way to celebrate. Between August 27th and September 23rd, Nintendo and Mercedes will be hosting a 'Mercedes Cup'. Yep, that's what it sounds like.
Regarding the other software updates for the game, Nintendo are giving us the following:
Drivers will now have the option to display the course map on the TV screen during races.
Users will be able to check out statistics such as their total number of coins accumulated, win-loss record from online play, and their most frequently selected character overall.
Users will be able to change options of others' Mario Kart TV downloaded highlight reels, such as changing the focus to a new character or event.
The order of the menu after each race will be changed to " Next Race", followed by "Watch Highlight Reel".
The game will remember the most recent customised kart settings that were selected, even if the Wii U system is powered down.
Improvements to stability of connection in online play to enhance the user experience.