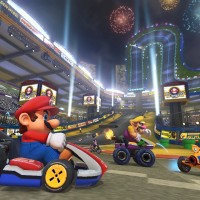 New Mario Kart 8 Nintendo Direct
It's officially one month to Mario Kart 8 as of today, and Nintendo are keen to get the buzz as big as possible for the defining kart racing series. As a result, we got another Nintendo Direct last night, and we here at the Arcade have all the essential details for you guys to check out! Some of the notable announcements were:
Mario Kart 8 Bonus Game Promotion

:

Whether Mario Kart 8 is purchased at retail or via Nintendo eShop, if you register an accompanying Club Nintendo PIN code of the game with Club Nintendo between 30th May 2014 (10:00 CEST) and 31st July 2014 (23:59 CEST), you will be eligible to receive a free download code for one of 10 selected Wii U games* by 31st August 2014 (23:59 CEST). This offer also applies to Club Nintendo PIN codes included in the Mario Kart 8 Limited Edition software offering and Mario Kart 8 Premium Pack – Special Edition hardware bundle

Online multiplayer:

In Mario Kart 8, up to 12 players can race together online, with four main ways to find opponents (Global, Regional, Friends and Rivals, Tournament)**. Like to banter with your friends while you're preparing for a race? Mario Kart 8 lets players chat with one another in the lobby area using the GamePad microphone as they wait for their friends to join. Players can also create public or private tournaments for which they specify the day of the week, the time and the rules. As is Mario Kart tradition, players will be able to race against ghost data from friends, or even the top 10 worldwide racers. Players can try to beat them or just pick up a few tips and tricks from studying the best. If you beat the Mario Kart 8 development team's ghosts, you'll get a cool Miiverse stamp.

Mario Kart TV:

On this in-game channel, players can view Highlight Reels from their races and tournaments they take part in – with rewind and slow motion replay features to boot – while racers eager to learn from others can watch the world's most popular Highlight Reels via Mario Kart TV and comment on them. Players with Google accounts can also upload their reels directly to YouTube from within Mario Kart TV, and post these videos directly to Miiverse.

New Items:

No matter how skilled some racers are, they're just a blue Spiny Shell away from peril. A well-timed item turning defeat into victory in an instant. The new Super Horn blows away all other items – literally. Sounding the Super Horn issues forth a sonic shock wave that blasts away everything in the vicinity, including other drivers, Red Shells and even Spiny Shells. It's a potent asset, especially for drivers trying to maintain their lead. Mario Kart 8 also introduces the Crazy Eight, a swirl of eight different items that lucky players can use one by one.

New Racers:

Two new playable female characters make their debut appearances in Mario Kart 8. New heavyweight driver Pink Gold Peach glows with a golden light and makes a shiny counterpart to Metal Mario, while the new Baby Rosalina shows up for a play date with other Baby characters. As in past Mario Kart games, players can again choose to play as their Mii characters, rounding out the field of racers to a total of 30.
If you want to watch the full Nintendo Direct presentation, you can view it in full right here, too:
Mario Kart 8 is out for Wii U May 30th