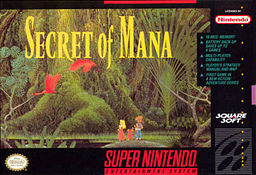 Banjo Guy does 'Secret of Mana' – The Little Sprite
Subtlety probably isn't my strongest trait, in fact I'm as subtle as a Pokéball to the face! Last week I was stunned by a banjo cover of a retro Castlevania track and after the artist/youtuber reached out to us I couldn't help but drop a recommendation his way!
This week Banjo Guy Ollie somehow managed to pick up on my oh so obvious hints and has covered one of my favourite RPG tracks 'The little Sprite' from the Square Enix classic, 'Secret of Mana'.
Secret of Mana was first released on the SNES in Europe in 1994 and has since been made available for the Wii, WiiU and iOs. 
Editor-in-Chief, part-time super villain and hoarder of cats. If you can't find me writing, I'm probably in the kitchen!