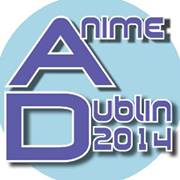 Anime Dublin 2014 April 26th
Anime Dublin 2014 Preregistration Opens, Events Announced
Online pre-registration, unique events, exclusive screenings and more for Ireland's finest one-day anime event.
Anime Dublin is back for 2014, bringing with it an anarchic day of fun events, exclusive screenings, panels, workshops and more into one of Dublin's finest hotels this April 26th.
2014 sees the fantabulous one day spectacular that is Anime Dublin make itself at home at the Academy Plaza Hotel on Findlater Place, just off O'Connell St in the heart of Dublin city. Recently refurbished and housing an ample sized main room, along with two side rooms for gaming, panels and screenings, the Academy Plaza couldn't be a better spot for A.D. 2014.  Doors will be open at 10am and events will run right through until 10pm at night.  A special food menu is being prepared for Anime Dublin and will include hot food and Asian style classics, along with hot & cold drinks and plenty of snacks.
For all our late night 18+ attendees we'll be hosting a pub quiz and DJ sets from 8pm til 12.30am in the hotel's pub!  We have plenty of surprises planned on the night that will keep the partying going til we're kicked out onto our backsides.
A.D. 2014 will feature a fantastic games room with plenty of consoles, loads of tournaments, card games, RPGs and lots of fantastic prizes!  A purpose designed all-seated room will host our exclusive screenings, panels, workshops and more, and like the other rooms will be open from 10am til 10pm.
Limited preregistration has opened and for €10 lucky attendees will receive guaranteed entry to the festivities.  Preregistering is the only guaranteed way of attending Anime Dublin!  We have a total of 300 preregistration tickets available.  On the door tickets cost €10 and are strictly limited in number – we can't be held responsible for anyone who turns up at 1pm expecting a ticket!
A ticket not only guarantees you full access to the madness that will be A.D. 2014 but, subject to showing our lovely front desk volunteers the correct ID, a pass to our late night pub quiz and DJ sets that will take place in the hotel's pub!
Anime Dublin is a unique, one-shot one day anime convention held right in the centre of Dublin city.  The idea behind it is simple – start early, end late, pack as much convention fun as we can into as short a time as possible, in as big a venue as possible.  We're into our third year and are hoping 2014 will be bigger and better than last year – join us this April 26th for a day-long celebration of everything anime & manga!
Anime Dublin – the most fun you can have in a hotel basement!
Look out for more announcements in the coming weeks, including info on specific events and full screening and gaming tournament schedules!
WHAT: Anime Dublin 2013
WHERE: Academy Plaza Hotel, Findlater Place
WHEN: April 26th
HOW MUCH: Preregistration €10
About Anime Dublin
Anime Dublin, now in its third year, is a unique, one-shot one day anime event held every year at the start of April in a central Dublin location.  Everything fantastic about an anime convention – from the special events, exclusive screenings, gaming, late night activities and the unrivalled atmosphere – all packed into one day-long celebration of madness.
Check back regularly at https://www.facebook.com/AnimeDublin for the latest convention news, gossip and discussions.
For further information, contact:
Mark Murphy, Anime Dublin committee
animedublin@gmail.com
https://www.facebook.com/AnimeDublin