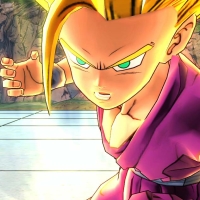 Dragon Ball Z Hits Consoles
'Dragon Ball Z' is one of the most iconic names in anime and manga. Whether you're a hardcore fan or maybe just know the characters to see, chances are that you've been exposed to it at some point, and with good reason!
But now fans can rejoice as Dragon Ball Z: Battle of Z is now available on XBox360, PlayStation 3 and PlayStation Vita, a smart move in my opinion as fans won't have to purchase a new generation console to play the game.
NamcoBandai state: 
'For the first time ever, the fans will be able to embody God Goku, Beerus and Whis, the three newest characters joining the epic Dragon Ball Z Universe! These new characters are joining a huge roster of more than 70 characters (including transformations & DLCs) with their unique playstyle based on the four different fighting types: Ki-Blast, Support, Melee andInterfere! On top of the amazing character line-up, NAMCO BANDAI Games included tons of exciting features such as theGenki gauge, Giant Bosses Battles, Premium Points and Dragon Points (to customize your favourite character), as well as different Modes where cooperation with allies is mandatory… and much more to discover!
 To celebrate this brand new game, the Limited Exclusive Goku Edition comes packed with epicness: the game, an amazing Artbook and a massive Figurine of the mighty Goku in his Super Saiyan form!'
Follow all the fun on Facebook here!