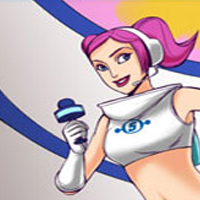 Sonic the Comic presents: Space Channel 5!
The first thing you need to know is … this is honestly a great bit of craic.
Eagle-eyed Arcade readers might remember Space Channel 5 from way back when, when it first appeared  in 2000 for the Dreamcast.  Later released for the PlayStation2 and ported by THQ to the GameBoy Advance in 2003. A sequel was released for PlayStation 2  in 2002 and on Steam in 2011 and its referenced and name dropped in countless other Sega titles too.
So now that we all remember Space Channel 5 I can tell you about its latest incarnation in comic book form presented FREE to read by Sonic the Comic Online.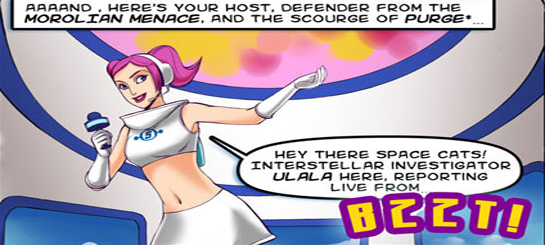 With script and lettering from Chris G and featuring artwork from Irish comic artist Leeann Hamilton with additional colors by Clair Ryan, SP5 is honestly a great laugh.
Featuring Space Channel 5's top reporter Ulala and the ever jealous Puddin a rival reporter for Channel 42 (*Boo! hsssss Boooo!*) The story begins with what should be another groovy broadcast from Ulala until we're ever so rudely interrupted by Puddin who's hijacked the airways to bring us another X-Factor themed reality show. For me at least, that sealed her role here as the villain. Her "Supreme Judges" are a good laugh too, Space Cowell: again instantly vilified, the seemingly slick to bits Nas-T-Beats, Diva D: Meh, and then there's Boss Hoorg. I don't know what he/she/it is … but I love him/her/it.  So it's up to Ulala to undertake some investigative reporting and head to Channel 42 in the guise of a groovy new contestant to win her ratings back from Puddin. I'll say no more though as it is after all a short story and I don't want to give the game away altogether. Give the game away? …No? Nothing? Anyway …
Anyone who loved the original Dreamcast classic is bound to enjoy this flashback special, and to anyone who doesn't remember … it's fun and free? No excuse.
So go check out Sonic the Comic's Space Channel 5 for free online now.