Artist Alley: Where Do I Start?
Anyone who's been to a convention knows that one of the most essential elements of any trade hall is the Artists Alley. These wonderful artists exhibit their original work, and generally have some of the most creative and interesting things to sell. But how did they get there? Do you want to sell your work at a convention but aren't sure how? Maybe you've been accepted and you're not sure what to expect? Well, The Arcade are here to help! I, personally, have been selling my art at conventions for a little over 3 years now, and it just gets more and more enjoyable with every convention. Here are my tips and pointers on how to get there!
1. Applying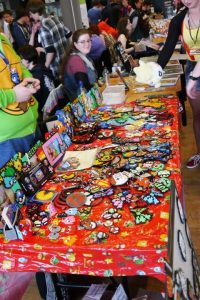 First things first. If you want to sell, you need to apply for a table. These applications usually open a good few months in advance, so keep on eye on convention websites and social media sites as they'll alert you as to when applications open. What artist alley managers want to see you from you is originality, Anime prints are always nice to see, but chances are if you have interesting and unique work, you'll get noticed more.
In your application, you'll need to tell the manager what YOU can bring to the trade hall. Why is your work different? What sets you apart? They'll also require you to send on 4 or 5 high quality pieces of artwork through e-mail. Make sure what you're sending is your absolute best. You want to shine amongst the other applications, and send a variety of things. Don't just sent 3 Pokémon images and 2 Naruto pictures. You'll more than likely also need to include a link to your blog. This can be a Tumblr, deviantART, Blogspot or anything of the sort. Ensure it looks professional as you want these people to take you seriously.
2. What to Bring
So you've got your place! Great! Now comes the part where you need to decide what to sell. You'll need to select various pieces of work to sell as prints. Try to select a variety of your favourite pieces, and pieces you personally think would sell well. Remember, it's unfortunate but fan art will almost certainly sell better than original art. If you want to make a profit selling your original characters, designs and images, you'll need to build up to it. It's extremely achievable, so don't worry. Artists like DestinyBlue and Ruth Redmond only sell original work, and are always in high demand! A variety in sizes is best. Get a couple of a5 and a3 prints to sell alongside your a4 images. 
This might sound extremely obvious but make sure whatever work you sell is your own! If you've heavily referenced or copies an image from the internet, do not submit it for review. Do not sell it. The manager might look at it and think it's brilliant, and they may not have seen the original, but chances are that somebody at the convention will know it's a copy. This can lead to the convention getting in a lot of trouble, and you being black-listed from selling at future events.
People love 'bitty things'. Think keyrings, stickers and badges. These are fun little things you can sell for a Euro or two, and still turn a nice profit. Invest in a laminator for little keyrings. Sticker paper is available in 2Euro shops for as little as €1 a packet! These little things will always sell.
3. Prints
On the topic of prints, there are many places you can get them made for you. I highly recommend Reads in Nassau Street, Dublin. They're high quality and charge a very reasonable amount, and there are so many options for variations.
If you're unsure of how many of each print to bring, start small, but enough to cover your costs. Think maybe 5 copies of each print.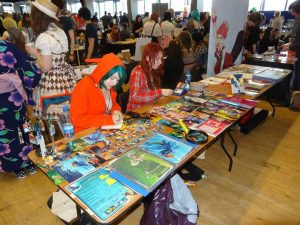 4. How much do I charge?
The lifelong questions for artists selling their art. Everyone is different, but you need to keep two important things in mind:
Charge enough to make a profit.
Don't overcharge.
Once you find that happy medium, you're sailing. Here's a rough breakdown of average artist alley prices.
A4 prints: €4 – €7
A3 prints: €6 – €10
A5 prints: – €2 – €4
Stickers/Keyrings/Badges: €1 – €3
5. Should I do sketches?
It's completely up to you! I highly recommend it, though. If you're confident enough in your abilities and think you can produce images on the spot, then absolutely. Sketches are something that are always in high demand, as there'll be people looking for specific characters or even original characters! They're a fun things to do and quick money, too. Always charge a small bit higher than your prints, maybe €2 more, as you're producing an original piece. Don't feel like you need to go all out with inking and colouring, these are quick sketches, not finished pieces. If you do want to include colour and ink, charge more.
Other Tips: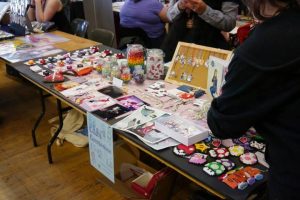 Always have change. People WILL try to pay with big notes, and that can be a pain. Make sure you've a good mixture of coins and notes. The nice things about charging a standard even price for merch means you don't need to worry about smaller coins, all your change will be even €1 or €2 coins.
Make sure you bring food, or you have money for it. I know it sounds basic, but it's so important. You're going to be sitting at this stall for about 8 hours, so you're going to need your energy! Load up on water and sugary snacks can be good too, but ensure you do get a mean, even if it's just a sandwich.
Be friendly and outgoing! If you're just sitting quietly behind your stall, people can feel put off. Be chatty. If they're in cosplay, ask them about it. Just be pleasant, but not pushy.
If you're applying for any artist alleys in 2014, I wish you the absolute best of luck, and I hope this helps!
For further reading, check out this awesome checklist!
One last thing! Here's a list of conventions taking place in 2014 that you can apply to! Good luck!
Akumakon – Applications CLOSED
Kaizoku Con – https://www.facebook.com/KaizokuCon
Aka-Con – http://www.aka-con.com/
2D Comics Festival – http://2dfestival.com/
Q-Con – http://www.q-con.org.uk/
ArcadeCon – https://www.facebook.com/thearcade.ie?fref=ts
Nom-Con – http://nom-con.net/
Eirtakon – http://eirtakon.com/
Missing one from the list? Let us know!