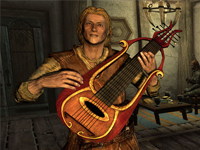 We've been trawling Youtube the last couple of hours and we've found some videos that have gotten us tingly all over! The good kind of tingles that rise up your spine and electrify your skin… 
Nothing guarantees to do that job better than some epic fantasy music and The Elder Scrolls V: Skyrim was hardly short of those so our internet travels has dug up some of absolutely amazing covers of the music from the game…enjoy!
Skyrim Main Theme Remix – Diwa de Leon
The Age of Aggression – Edoardo Morelli
The Dragonborn Comes – malufenix
Lara6683 – Skyrim/Morrowind Cover 
Editor-in-Chief, part-time super villain and hoarder of cats. If you can't find me writing, I'm probably in the kitchen!