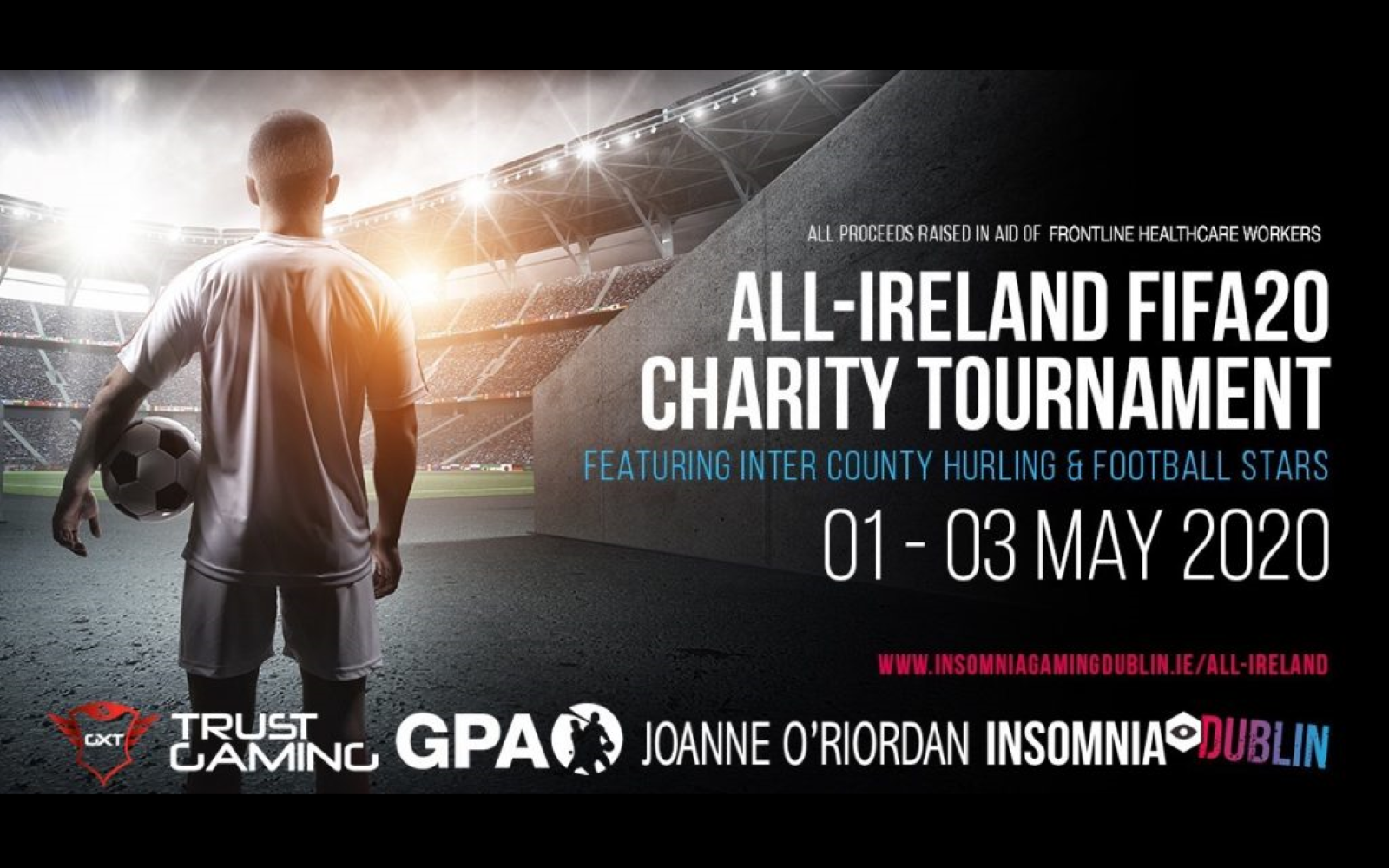 All-Ireland FIFA 20 Charity Tournament Starts May 1st
Insomnia Games Festival Dublin is running an All-Ireland FIFA 20 Charity Tournament featuring leading inter-county hurling and Gaelic football stars from across Ireland! Watch our GAA stars go to battle in a game of FIFA 20, and all for a great cause!!
This tournament has been created by Joanne O'Riordan of The Irish Times, The Gaelic Players Association and Insomnia Games Festival with the objective of raising much needed funds for our unbelievable frontline healthcare workers during this hugely challenging time. Here is the DONATION LINK!
Watch the tournament unfold, as select fixtures will be streamed live on Insomnia Dublin Games Festival Facebook Page at the following times:
Friday 1st May – Live Stream from 7pm
Saturday 2nd May – Live Stream from 4pm
Sunday 3rd May – Live Stream from 4pm
The Players
1.    Antrim – Patrick McBride (Roma)
2.   Armagh – Aidan Nugent (AEK Athens)
3.   Carlow – Adam Dunne (Liverpool)
4.   Cavan – Oisin Brady (Inter Milan)
5.   Clare – Keelan Sexton (PSG)
6.   Cork – Sean O'Donoghue (Barcelona)
7.   Derry – Ruairi Mooney (Juventus)
8.   Donegal – Oisin Gallen (Schalke 04)
9.   Down – Mark Fisher (Valencia)
10.  Dublin – James Madden (CSKA Moscow)
11.   Fermanagh – Jimmy Tormey (Shakhtar Donetsk)
12.   Galway – Padraic Mannion (Atletico Madrid)
13.   Kerry – Padraig Boyle or James O'Donoghue (Young Boys)
14.   Kildare – Kevin Flynn (Napoli)
15.   Kilkenny – Paddy Deegan (AJAX)
16.   Laois – Eric Kileen (Manchester City)
17.   Leitrim – Oisin McLoughlin (Hobro IK)
18.   Limerick – Cian Shorten (Benfica)
19.   Longford – Daniel Connell (Hoffenheim)
20.   Louth – Gavin Kerrigan (Bayern Munich)
21.   Mayo – Matthew Ruane (Club Brugge)
22.   Meath – Jordan Morris (AS Monaco)
23.   Monaghan – Conor McCarty (Galatasaray)
24.   Offaly – Cian Johnson (Lyon)
25.   Roscommon – Donie Smith (PSV)
26.   Sligo – Niall Feehily (Real Madrid)
27.   Tipperary – Kyle Shelly (Lokomotiv Moscow)
28.   Tyrone – Niall Morgan (Chelsea)
29.   Waterford – Aaron Jones (FC Porto)
30.   Westmeath – Joe Rabbitt (Tottenham Hotspur)
31.   Wexford – Rory O'Connor (Dortmund)
32.   Wicklow – Andy Maher (Victoria Pizen)
 Fixtures & Results
To keep up to date with all the matches, check out the website, Insomnia Games Dublin Facebook page or Twitter feed.
Which county will come out the victor?