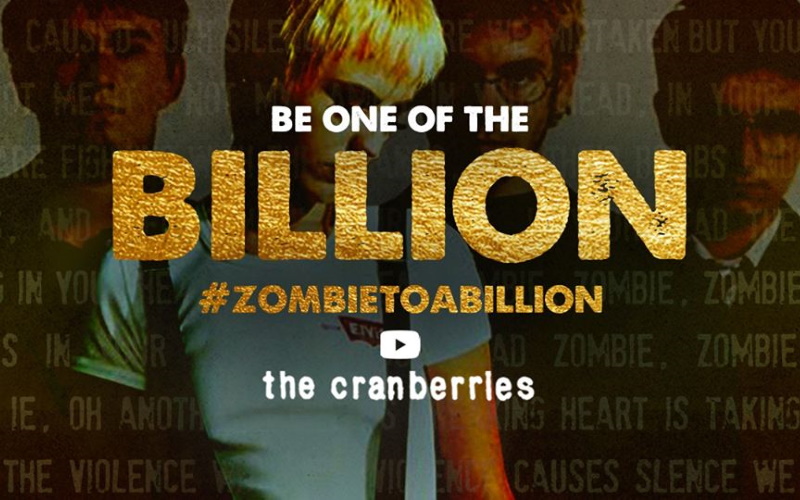 Zombie – The Cranberries – Track Of The Day
Today we are checking out Zombie from The Cranberries, as it becomes the first video, from an Irish band, to get 1 BILLION views on YouTube.
Originally forming in Limerick in 1989 by singer Niall Quinn, guitarist Noel Hogan, bassist Mike Hogan, and drummer Fergal Lawler.  It wasn't until 1990 when Dolores O'Riordan joined the group, replacing Quinn, where we got the best known lineup of The Cranberries. Releasing their debut album Everybody Else Is Doing It, So Why Can't We? in 1993, they not only found success in Ireland and the UK, but breaking into the coveted US market, becoming a top 20 album on the Billboard Charts. They also topped charts in many other territories, in both the album and single charts. With songs like Dreams and Linger, it would be from their second album No Need to Argue, where one of their most well known songs – Zombie, would come.
Zombie was written as a protest song, in memory of two young victims of a bombing in England in 1993. There was initial push back from record executives to release the politically driven song, as it was during The Troubles happening in Northern Ireland at the time. Eventually, the band pushed for the release and it came out in September 1994 along with a memorable music video. It went on the be number one hit in many countries across the globe and even won the "Best Song" award at the 1995 MTV Europe Music Awards.
Releasing in October 1994, No Need to Argue went on to sell over 17 million copies across the world and the band have sold over 40 million albums in total. The band finished and released their final album In The End in April 2019. This came after the untimely death of Dolores O'Riordan on 15th January 2018.
On the 18th April 2020, Zombie become the first song from an Irish band to reach 1 billion views on YouTube. The remaining members of the band and the family of Dolores, released statements conveying their gratitude to the fans.
Congratulation to The Cranberries. A much beloved band to this day, but if you haven't listened to them before, we highly recommend one of Ireland's best bands. You can follow any future updates from the band on their Facebook, Instagram, Twitter or check them out on YouTube or Spotify.