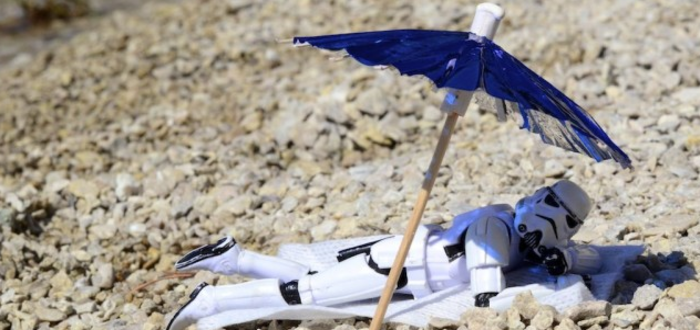 Summer Memories – Inner Geek
Laura says…
I suppose my favourite geeky summer memory would be the year I went to Waterford with my family. Or, at least I think it was Waterford. We'd been able to get a house to stay in so my parents, brother, grandmother and I went down for a couple days. I was at the height of my introduction to gaming, so there was no way I was leaving my PlayStation behind. So I packed it up with Crash Team Racing and set it up as soon as I was able.
I remember one night my parents decided to have a night to themselves. My nan was babysitting us and of course, I was spending the night on CTR. I had a rule that my brother was not allowed to play. Not because he was better than me. No, definitely not that! But because he was a terrible winner. He gloated incessantly and used every goddamn chance he could to bomb my cart. It just wasn't fun. So I asked my Nan did she want to play.
It should be noted that my Nan had never played a game in her life. She'd never even held a controller. But she accepted anyway because that's just the kinda person she was. She was your typical granny listening to the likes of Daniel O'Donnell. But I remember distinctly during my brothers heavy metal phase, she'd listen to whatever he gave her. She just didn't care about trying new things no matter what they were.
Now I'd love to tell you I inspired my Nan to become a hardcore MLG gamer. But that's not what happened. However, she played with me the entire night without complaint. I felt much too proud about beating a 60-year-old woman at CTR, but I had fun. Plus she got a few giggles out of it. I really need to live by her example and not be afraid to try new things. It just serves to remind me of what a wonderful person she was.
Matt says… 
My favourite geeky summer memory was a spontaneous all-night gaming session. Myself and two of my friends were hanging out playing video games in my old bedroom at my parents house. One of my friends came up with the idea that I take my PS2, while my other friend went home to grab his Xbox, and we go back to his house for a tandem gaming session.
So we collected our consoles and went back to my friend's house and we set up the three consoles. Then we spent literally the next 15 hours or so playing games. We played Call Of Duty 2, one of the Ace Combat games, Guitar Hero 3 (which featured me failing at 'Through Fire And Flames' by Dragonforce multiple times), Fifa Street 2 and Def Jam: Fight For NY.
What stands out in particular is my friend insisting we played Def Jam: Fight For NY until he beat me. We repeatedly rematched a fight between my maximum stat created character and the maximum stat character, Suspect. It was awesome.
We must have played that match over and over again 50 or more times, mostly ending with me using my character's KO heavy punch ability to end the fights quickly. Eventually my friend beat me and to make sure I hadn't thrown the fight where he won, he made me play about 10 more matches.
I honestly miss the days when I could play games for 15 hours straight and not sleep. To be young again!
What about you? Do you have any stand-out summer geeky memories? Let us know in the comments!