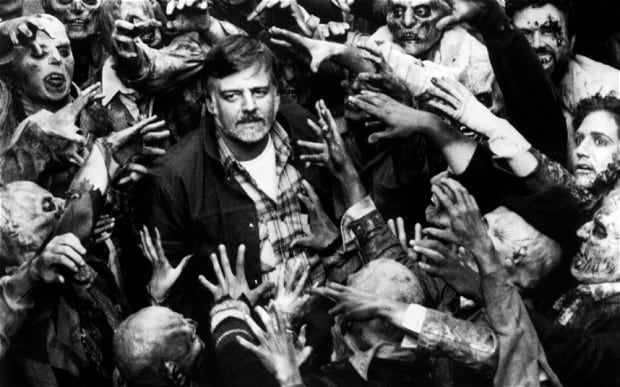 Dawn Of The Dead Director George A. Romero Dies At 77
Legendary film director, George A. Romero, passed away peacefully last Sunday, July 16 at the age of 77.
Romero has long been hailed as 'Father of the Zombie Film' since he first began to establish the Zombie Horror film genre in 1968, with his film Night of the Living Dead. Throughout his extensive career as a director, Romero developed his Dead series and consequently is not only considered a pioneer of horror films, but as the progenitor of modern zombie culture.
Even if you've never seen any of Romero's zombie apocalypse blockbusters, you'll be familiar with his influence on the film industry. The Purge, World War Z and 28 Days Later are just some of the countless films that have drawn direct inspiration from the likes of Romero's Dawn of the Dead and Day of the Dead. Romero's influence has even spread to the small screen in recent years, with shows such as Z Nation and The Walking Dead gaining traction.
Despite Romero having a complicated relationship with The Walking Dead, once referring to it as "a soap opera with a zombie occasionally", the success of the show is a prime example of just how monumental Romero's influence truly is. If Romero had not developed zombie horror into its own sub-genre all those years ago, it's highly unlikely The Walking Dead – which is the third most watched TV show on television – or any other post-apocalyptic TV show or film for that matter, would even exist, never mind becoming super successful.
After a short yet intense battle with lung cancer, Romero's manager, Chris Roe, confirmed in a statement that the director had died peacefully in his sleep, listening to the score of one of his all-time favourite films, The Quiet Man, while surrounded by his wife Suzanne Desrocher Romero and one of his three children, Tina Romero.
Undoubtedly, Romero was a highly unique individual who merged the gruesome and the satirical in an unprecedented fashion. As a creator, Romero always "used the zombie as a character for satire or a political criticism" and due to this innovative and in-depth mindset, his films always took on a symbolic meaning. Consequently, Romero's brilliance and genius have insured his name will live on forever as one of the most influential horror directors of all time.
Romero is survived by his wife Suzanne, his daughter Tina and his two sons, Andrew and George Cameron.