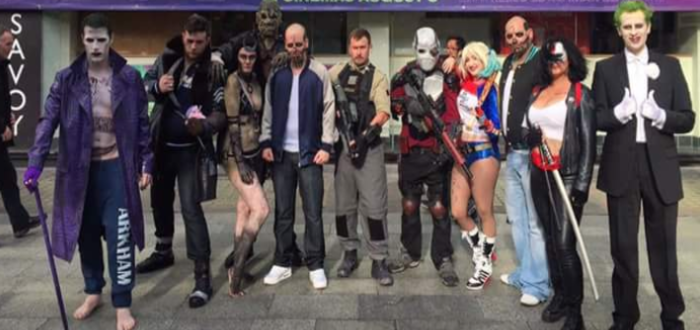 The right question is… what are you not doin' this weekend, Lauren?! I've got a seriously busy weekend ahead of me all starting on Saturday actually! So, yep, I'm gonna go day by day and let you all know what I'm up to…
SATURDAY
On Saturday I'm heading into Dublin to appear at the National Wax Museum for pretty much the entire day! Yep, myself and a few others are appearing as different characters for the day to make the day special for guests and visitors. My first costume of the day will be Tinkerbell because she doesn't get out enough and those wings need to see the light of day every now and then! But the main thing for me that day is the fact I get to take my amazing Predator suit out for her first hunt! I've named her Lamashtu after the Mesopotamian Goddess and I cannot wait to actually hunt with the rest of Predators Ireland for the first time! I am going to be attempting to scare as many people as I can by pretending I'm actually a wax figure! We're doing the event with Dublin City Comics, Predators Ireland and Hyde & Seek Cosplay.
SUNDAY
Sunday was meant to be a day of rest for me, but after finding out about a fancy dress competition in one of the bars where I live, well, I'll be heading down to that on Sunday night dressed in my Pred suit with my Dad as my handler. Yep, my Dad is gonna come with me. Does he know that yet? Nope. Does that matter? Nope. I cannot wait to walk into the bar as a Predator and basically scare as many people as I can and not have a single person know who I am. Now I know why those 'Killer Clowns' do what they do!
MONDAY – HALLOWEEN
Halloween is the fun one! I literally cannot wait for this night. Usually my Halloween night is spent inside watching horror movies, but this year I'm heading up to Belfast to appear as Harley Quinn with my amazing Joker (Everyday Hero Cosplay) all thanks to Superheroes Belfast! We're appearing at The Box Nightclub from 9pm onwards, and we'll be taking over, acting like Harley and her Puddin' all night and basically causing chaos for as long as we can!
So what are you guys getting up to at the weekend? And more importantly, for Halloween? Let us know in the comments!