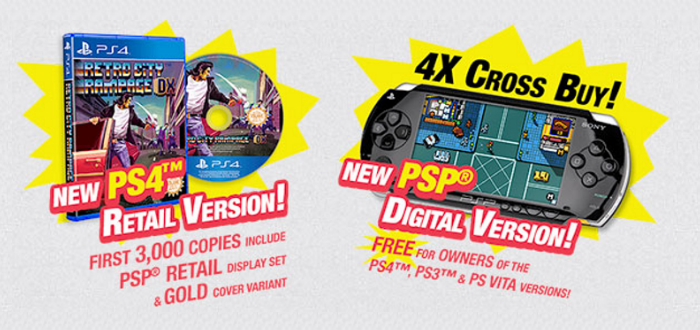 Retro City Rampage – Interview With The Creator
Originally released back in 2012 on PlayStation 3, PlayStation Vita and Microsoft Windows, Retro City Rampage was a retro styled game based in a open world game made by Brian Provinciano and VBlank Entertainment. Since then, it has been ported to Xbox 360, Wii, 3DS, PlayStation 4 as well as iOS in the form of an upgraded DX version. It also has been ported to MS-DOS as Retro City Rampage 486.
Now it's available on PSP and has become the first 4X Cross Buy game on Sony's platforms. It comes loaded with all the upgraded DX features and is available right now on the
PS Store
. It is FREE to download to whoever already owns
Retro City Rampage DX
on a Sony platform. You can buy a limited edition PS4 edition which will include PSP display case and manual over on
VBlank's store
.
I got to chat to Brian Provinciano, designer and developer of Retro City Rampage.
What made you want to create Retro City Rampage originally?
Brian – The earliest seed of the game came from my desire to prove that the third person 3D open world experience of PS2 games of that time would be possible in 2D on the NES, but the idea and intentions grew and evolved greatly from there.
Has it been interesting to develop for such diverse consoles and platforms, be it in control scheme, power or exclusive inputs (such as DS's second screen, Vita touchscreen etc.)?
Brian – The second screen was the most work when it game to design and tweaking the game, figuring out how to make the best use of it. Adding touch screen support to the Vita was relatively simple, and having a touch weapon select really is nice.
It has a lot of throwbacks, spoofs or nods to game mechanics, characters and plots of some of the most iconic games. Was it hard to create all these inclusions, while creating a game that is fun to play?
Brian – The biggest challenge was actually narrowing things down. I had countless ideas, but when you want to flesh each theme out, they'd often need a handful of missions each, and before you know it, you have a full game. So I wasn't able to riff on as many things in the story mode as I'd initially thought.
From what I have researched online, the last documented release for a PSP game was the digital release for Brandish: Dark Revenant in 2015. How were you able to get permission to publish for PSP from Sony?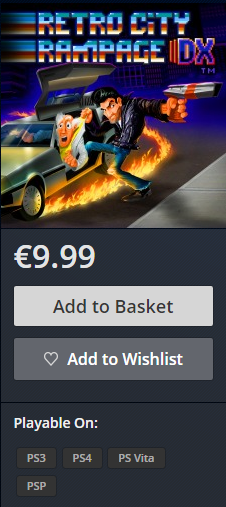 Brian – I'm very grateful that Sony still allowed me to publish the game for PSP, since it takes up valuable resources on their end to set things up and run it through testing and certification. At the end of the day, it hadn't been officially discontinued digitally, so the processes still existed.
Unfortunately you are unable to make a physical copy for UMD due to the ceasing of manufacture. How did you or Sony go about trying to get this made as a physical copy?
Brian – I sent a lot of emails back and forth, between both SCEE and SCEA, hoping that one of the two would at least have a lead. After a lot of attempts and investigation, they were not able to get the factory to spin things back up.
You have now released on a huge range of platforms including past juggernauts MS-DOS and PSP. What made you go back and release on these platforms even after the several console generations have passed in the last few years?
Brian – After I'd done ports to more current and viable platforms, I decided to reward myself as a programmer and game developer, just to squeeze the game down for the older platforms, for fun.
You are a great fan of physical media and have some very desirable limited physical prints of your game. How do you go about deciding the look and vibe of a release and what gets included in the package? Is it a throwback to the games of the past?
Brian – I'm a big fan of classic game boxes and ads in magazines, the old "back of the box", so I sometimes look at old game marketing materials for inpiration. The first releases used the existing game illustrations, but this new one has a new illustration done specifically for the box cover. Lots of sketches and brainstorming finally lead to the one I went with. The painted colouring style was inspired by techniques of the '80s.
How has self publishing help your games development and vision?
Brian – Self-publishing gives me full control. I've experienced working with publishers in the past, and it's very frustrating at times, because there's someone in the middle. For example, if I want to run a sale, I need to reach out to the publisher, then they need to reach out to the platform. Then the platform reaches back out to them with options, then the publisher forwards them to me, we discuss, then repeat. It slows things down, and even sometimes results in missed opportunities because of lead times. In my opinion, in many cases, such as mine, there's no reason to have someone in the middle. It's easier and less work just to directly be the publisher myself.
What have you learned from RCR that you are bringing across or improving for your next game Shakedown: Hawaii?
Brian – I'm focused on adding more replayablity and creating an even more open-open world.
Thanks to Brian for chatting with me.
His next game
Shakdown: Hawaii
is scheduled for release in 2017. Check out the announcement trailer below and for more news keep an eye on
VBlank's website
.
For more information and to follow Brian check out the links below: