Are you a singer? Do you love anime?
Haneda International Anime Music Festival is now accepting entries for the 'Anisong Cover Project' through HAF Records!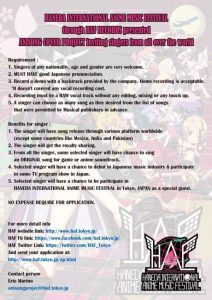 Singers from across the world can now compete for the opportunity to release an anime song cover and have it distributed through various platforms!
A select few will have the chance to debut as a singer in Japan. They will also get the chance to participate in Japanese TV programs that are associated with HAF Records! From each participating country, one singer will be invited to the annual Haneda International Anime Music Festival to be a guest performer. The festival takes place at Haneda International Airport and attracts visitors from around the world.
Requirements
Singers of all ages, genders and nationalities are welcome to join, as long as they have good Japanese pronunciation. You don't have to be fluent in Japanese though! A backing track is provided by the organisers. They will only accept raw vocal tracks without editing, mixing or touch ups.
The deadline for entries is August 15.
For more information, you can visit the HAF website. You can find the application form here. If you have any further questions regarding the project, you can contact Erie Morino (anisongproject@haf.tokyo.jp)
Good luck to everyone who participates!