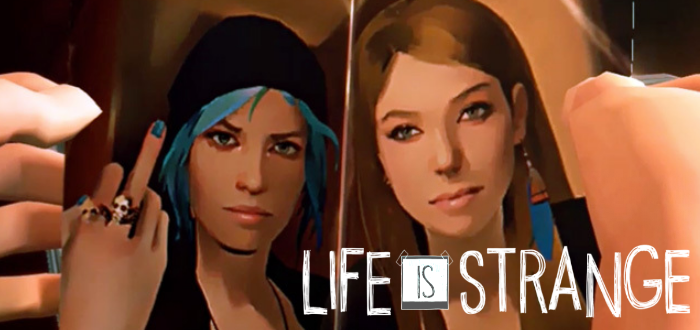 Style Saturday – Life Is Strange! Hella Strange!
Summer can be a difficult time of year for people like me. You know, people whose wardrobes consist entirely of various shades of black and maybe some grey if you're lucky. I…do not do well in the sun. Last year in Malta I got so badly burned that my entire left leg swelled up, so yeah, the sun isn't for me. I tend to bum around indoors playing videogames for that exact reason, because after all I would like to not go through crippling pain and a near-inability to walk again.
One of the games I've been playing during my time avoiding the sun is Life Is Strange, an absolutely great game set in the picturesque town of Arcadia Bay, Oregon. The game's autumn setting gives it some beautiful golden lighting but that's hardly seasonally appropriate. So, I'm gonna bring you a reimagining of two of the characters' outfits into something that's a bit more appropriate to wear in this heat. You might get immolated in a burning pyroclasm this summer, but at least you'll look hella good while doing it.
(Prices are in pounds Sterling and then converted into Euros after the fact, so prices might not be 100% accurate but they won't be any more than a Euro or two off. I'm sorry you lot have to deal with my foreignness, truly.)
Chloe Price
I don't think this'll surprise anyone who knows me even slightly. I bloody love Chloe Price. Beyond being pretty cute, I can identify a lot with her. She's an angry punk who says the f-word and "hella" far too much, with some deep abandonment issues and nothing ever seems to go right for her. She's one of gaming's best-written characters of late, which along with a stellar vocal performance from Ashly Burch, makes her feel like a real person, more than a character.
If you're going to do a Chloe Price-inspired look, you have got to get this one element down: a hella punk tank top. Chloe typically favours skull designs, but anything vaguely punky or alternative will work well, or you can do it yourself buy buying a band t-shirt and taking a pair of scissors to it (because what's more punk than cutting up clothes?).
Pair with black shorts – ripped ones if you can get them – and the classic black Chuck Taylor hi-tops. Accessory-wise, bullet pendants are worn by Chloe in-game, and any vaguely punky wristbands will finish off the style (leather cuffs, studded wristbands, band merchandise, whatever you can get your hands on).
Shorts – 45 Euro – River Island  |  Tank top – 11,50 Euro – bluebanana.co.uk  |  Converse Hi-tops – 57,55 Euro – Schuh  |  Studded wraparound bracelet – 9 Euro – Amazon  |  Spiked bracelet – 1,60 Euro – Amazon
Rachel Amber
Rachel Amber is a bit of an enigma. We never actually meet her in person, only hear about her from other people's memories of her and the photos found around the game world. But we do know that she wanted to be a model, and escape Oregon for the sunny shores of California. She was the girly girl to Chloe's rough tomboy, though the two were thick as thieves. So it was a challenge to create a look that I think she would have worn during the summer, something slightly alternative but very chic and fashionable.
Starting off with the black crop top, as soon as I saw this I knew I had to include it. Feathers are kind of Rachel's motif, since the 'Missing Persons' poster of Rachel that Chloe puts up everywhere in town has her wearing a single blue feather earring. Denim shorts are a must, they're just a perfect summer item and work really well with almost anything. The one time we see Rachel's clothes in-game, they're being worn by Max, and that includes a red flannel shirt, so tie that flannel around your waist for a very fashionable look while still keeping a slight bit of the grungy, alternative tendencies Rachel displayed.
As for footwear, these Vans are incredibly popular at the moment and again emphasise her alternative style with their origin as skateboarding shoes, and finally the earrings. As I mentioned before, Rachel is seen in every photograph wearing a single blue feather earring, so this is a key part of the outfit. Thankfully I found these earrings and fell in love with their colour, so these cap the outfit off perfectly in my opinion.
Crop top – 14 Euro – withchic.com  |  Denim shorts – 22 Euro – LE3NO.com  |  Flannel shirt – 12,50 Euro – Amazon  |  Vans low-top trainers – 52,50 Euro – zappos.com  |  Earrings – 4 Euro – yoins.com
So there you have it, two summer looks for Chloe and Rachel, ready to be worn out on the streets or to the festival of your choice! Happy incineration, everybody!