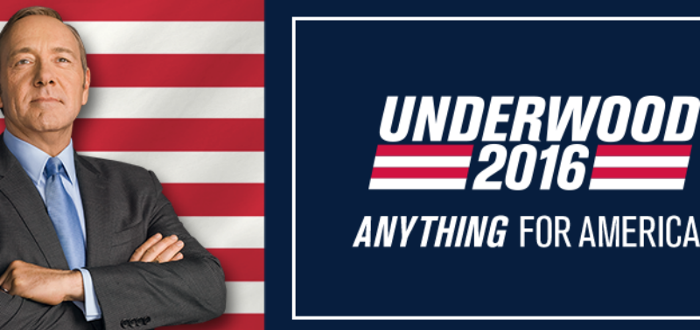 It's Frank Vs. Claire In New House Of Cards Season 4 Trailer
There's only one candidate worth voting for this election – Frank Underwood. If only he was an option, he'd make a very worth alternative to the likes of Donald Trump or even some of our own Irish political campaigners.
Sadly, Underwood 2016 is a work of fiction, but we do now have a full new trailer for the upcoming new season of House of Cards to keep us in high spirits during this election season.
Check it out:
Season three of House of Cards left us at a pivotal point after a slightly more deadpan set of episodes. Unlike the first two season, three was more character driven with less emphasis on big dramatic peaks. As a result, reception was a little mixed at the lack of a big pop ending – specially when compared with season two's ending being both pitch perfect and unnerving.
This new trailer brings the quicker pace from those first two seasons back. There's lots of snippets of various interwoven stories with Claire and Frank at the centre. The big sell for this season is the couple going against each other, both terrifying individuals when opposed. Both Kevin Spacey and Robin Wright have done great things with these characters' arcs and now there's a real pay-off in seeing them collide.
Since this is season four, too, we're likely to see the seeds of how the show will end overall. Dramas of this nature typically last between five and seven seasons so foreshadowing of a possible conclusion will be weighing heavy on discussion. Practically every major co-star of the series makes an appearance also, which hints at a very dense narrative that will take in all the various story threads already in motion. Whatever happens, Underwood 2016 will be a presidential campaign worth following!
House of Cards returns to Netflix on March 4.