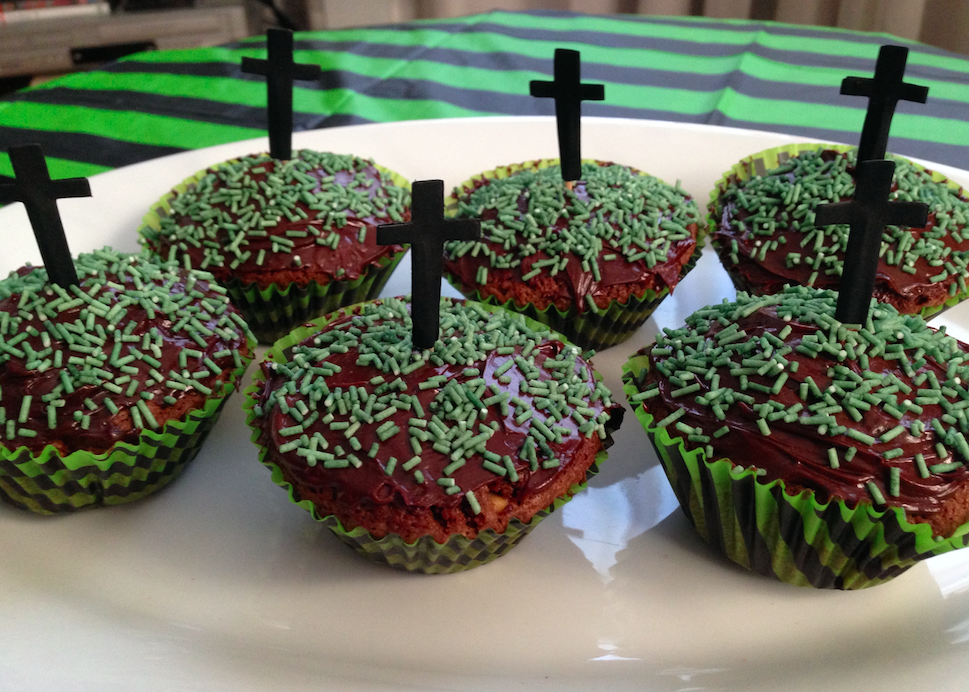 Recipe: Chocolate Graveyard Cupcakes
Halloween is about dressing up in fun costumes and eating lots of sweets until you end up with a nice fat food baby. But although eating sweets in itself is fantastic, it's even better when it's themed.
I picked up a cute green and black cupcake set with cross accessories in Dealz for €1.49 (such a bargain!) and the end result was pretty sweet. I would've liked to order some edible zombie hands so that they could claw their way out of the chocolatey dough but I didn't have the time (or forethought!) to get them.
This recipe is pretty easy and the end result is devilishly delicious, so if you end up baking them send us in a picture of your version or let us know your thoughts in the comments!
Ingredients: 
110g margarine
110g golden caster sugar
2 large eggs
170g self-raising flour
2 tbsp cocoa powder
9 individual squares of white chocolate
Top:
Green sprinkles (or whatever colour you want)
Ready-made chocolate fudge icing or 100g plain chocolate and 100l of double cream for ganache
Method: 
Preheat the oven to 190 degrees/ 375 degrees F/ Gas Mark 5. Put 9 paper cases in a bun tray.
Put the margarine, sugar, lightly whisked eggs, flour and cocoa powder in a large bowl with a tablespoon of milk and, using an electric whisk or a hand whisk, beat together until smooth.
Spoon half of the mixture into the paper cases. Using a teaspoon, make an indentation in the centre of each and pop a square of white chocolate on the top of each indentation, then spoon the remaining cake mixture on top.
Bake the cupcakes in the oven for 20 minutes or until well risen and springy to the touch, or when a knife comes out clean. Let the cupcakes cool slightly before spooning on the chocolate fudge (or ganache) and spreading it evenly on the top. Then lightly pour on the sprinkles and add the cross.
Ganache: 
Break the chocolate into a saucepan and add the cream. Heat gently, stirring all the time, until the chocolate has melted. Pour into a large heatproof bowl and, using an electric whisk, beat the mixture for 10 minutes or until thick, glossy and cool.