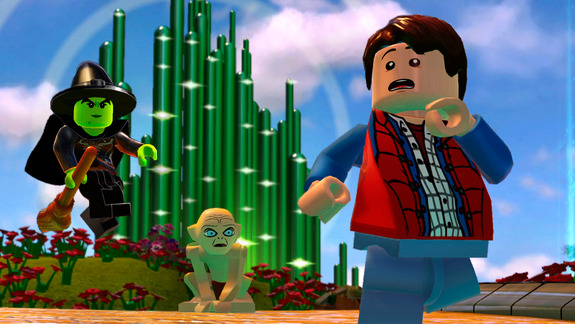 Warner Bros. Interactive Entertainment announced yesterday through a video that some major voice talent will be joining LEGO Dimensions. LEGO Dimensions is the upcoming experience that joins the brick building of LEGO and interactive console gameplay. It will fuse 14 universes from film, television and games including Scooby Doo, Ghostbusters, Doctor Who and Back to the Future.
Some of the amazing talent that is featured in this video include Micheal J. Fox and Christopher Lloyd who played Marty McFly and Doc Brown in the Back to the Future franchise.
Chris Pratt will return as Emmet, Elizabeth Banks as Wyldstyle, Alison Brie as UniKitty and Charlie Day as Benny. The list of incredible talent goes on with Peter Capaldi, Jenna Colemen, Michelle Gomez featured in the Doctor Who Universe and Troy Baker and Tara Strong as Batman and Harley Quinn in the DC Comics.
Lego Dimensions will be available for Xbox One, Xbox 360, Playstation 3 and 4 and the Wii U from September 27, 2015.