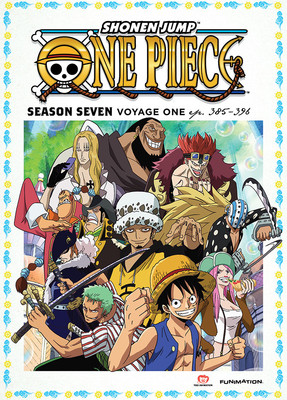 Funimation Unveil Dub Cast For One Piece Season 7
Funimation have been busy little beavers announcing new releases left right and centre but what nearly fell through the cracks was the revelation at Anime Expo of the dub cast for the seventh season of fan favourite anime One Piece.
The seventh season will see the Sabaody Archipelago arc take place. The announced additions to the dub case are:
The Supernovas:
Trafalgar Law – Matthew Mercer
X Drake – D. C. Douglas
Scratchmen Apoo – Brad Venable
Eustass Kid – Justin Cook
Killer – Leo Fabian
Jewelry Bonney – Laura Wetsel
Mad Monk Urouge – Major Attaway
Basil Hawkins – T. Axelrod
Capone Bege – Kyle Herbert
Other additionals voices include:
Pappagu – Chris Cason
Shakky – Elizabeth Maxwell
Camie – Megan Shipman
Duval – David Vincent
Boa Hancock – Lydia Mackay
Rayleigh – Bruce Carey
Funimation are set to ship the One Piece season seven, Voyage One DVD on July 14 and the DVD will include episodes 385-396.