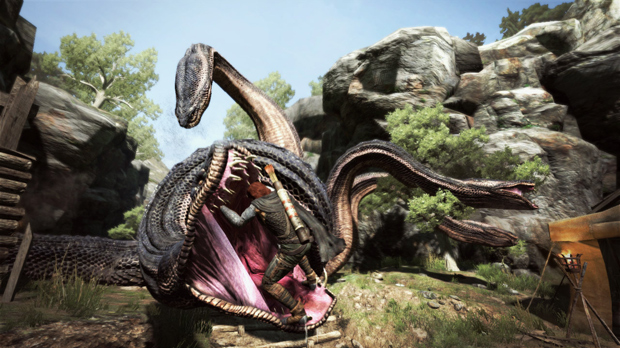 For more often than not when I hear the words 'free to play' strung together like that alarm bells go off in my head, I ignore them obviously but that doesn't mean I can't hear them. Before quitting my League of Legends habit I'd amassed a small fortune in champions and their alternate skins (who the hell says no to Captain Teemo or Reverse Annie/Tibbers?!) now it seems Capcom will be making Dragon's Dogma Online an FTP (free to play) title!
The announcement came in the latest issue of Famitsu magazine with the game detailing players ability to join up into groups of four to take on bigger and badder monsters out in the field. Matchmaking will take place in towns that can host up to 100 players and a quickplay element will also be available to those whose bloodlust has devolved beyond a simple 'Hello, would you like to play a game?'.
Players will be able to buy items with the use of microtransactions, spending their real money to buy in-game materials/equipment etc… well I'm going to be poor again pretty soon!
Dragon's Dogma Online is slated for a 2015 release!
Editor-in-Chief, part-time super villain and hoarder of cats. If you can't find me writing, I'm probably in the kitchen!