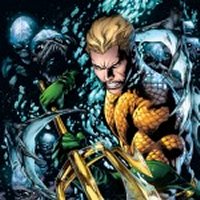 Jason Momoa is DC's Aquaman
It's been confirmed that Game of Thrones, Stargate Atlantis actor, Jason Momoa will feature in the upcoming in Batman vs Superman: Dawn of Justice film! The film directed by Zack Snyder and also features Henry Cavill as Superman, Ben Affleck as Batman and Israeli supermodel Gal Gadot as Diana Prince/Wonder Woman.
Aquaman is a founding member of the Justice League so with his appearance it seems that Warner Bros. are ramping up hype and speculation early with a leaked list appearing online slating a JL movie release for May 2017. That same list has recently received some credibility after director/filmmaker Kevin Smith spoke about in a podcast stating that; "Yeah, that's what I heard. That's what I was told." and when asked how he heard about the list he said, "Cause I know people mother f*cker".
The list contained the following planned releases:
July 2016 – SHAZAM

Xmas 2016 – SANDMAN

May 2017 – JUSTICE LEAGUE

July 2017 – WONDER WOMAN

Xmas 2017 – FLASH/GREEN LANTERN Team Up

May 2018 – MAN OF STEEL 2
Batman vs Superman: Dawn of Justice is scheduled for release May 6th 2016.
Editor-in-Chief, part-time super villain and hoarder of cats. If you can't find me writing, I'm probably in the kitchen!