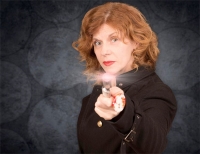 Big Finish Productions, responsible for a veritable army of audio plays based on a host of popular series, today announced that their immense Doctor Who range is soon to see the return of a much-beloved classic villain.
  The mad scientist Time Lady known as the Rani, having debuted in the Sixth Doctor episode 'Mark of the Rani' played magnificently by the late Kate O' Mara, has been a fan-favourite for a long time. Despite her limited number of televised appearances (one further in the Seventh Doctor episode 'Time and the Rani' and a final appearance in the 1993 Comic Relief special 'Dimensions in Time') and indeed equally-limited number in the expanded universe, Whovians everywhere (myself very much included) found her unique blend of terrific sarcasm and bizarre/highly-unethical scientific experiments to be a hit, and have been clamouring for her return for quite some time now.
  While there are no hints on the horizon for the Rani's return on-screen at present, Big Finish have stepped in instead! This December will see the release of 'The Rani Elite', written by Justin Richards, author of a staggering number of both Doctor Who novels and audio plays. The adventure, featuring Colin Baker's Sixth Doctor and Nicola Bryant's Peri Brown, will be "set in a galactic university" of some description. Details are understandably sparse at this early stage, of course, but the biggest news is that for the first time ever, a brand new incarnation of the classic Time Lady will feature, played by Scottish actress Siobhan Redmond (who has previously worked with Big Finish on the Seventh Doctor audio 'Revenge of the Swarm'). Could we see the Rani regenerate for the first time? I'm extremely excited to find out, it's been a long-overdue return.
  'The Rani Elite' is available to pre-order now from Big Finish's website.