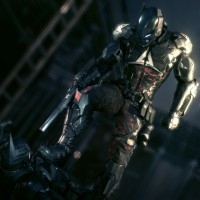 Batman: Arkham Knight First Gameplay Trailer
Since being announced earlier this year, people have been looking for some proper footage of the next chapter in Rockstady's Arkham series. Finally, we have a little something to chew on to tide us over until (hopefully) some actual gameplay at E3 in the shape of this new gameplay trailer.
The synopsis of the game's story reads:
Scarecrow returns to Gotham City to unite the Rogues Gallery in a master plan to destroy the Batman once and for all. When the citizens of Gotham are forced to flee, the remaining criminal gangs converge to take control of the city. Undermanned and overpowered, Batman aims to even the odds by bringing his legendary Batmobile to the fight. This showdown between criminal masterminds and the Dark Knight will decide the future of the city that Batman is sworn to protect.
Rocksteady gave up the mantle for last year's Arkham Origins, which was developed by Warner Bros. Montreal, but have stepped back into the batcave for Arkham Knight, which will be on next-generation hardware.
Batman: Arkham Knight's release date is still TBC.