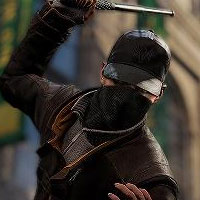 "Set in Chicago, where a central network of computers connects everyone and everything, Watch_Dogs explores the impact of technology within our society. Using the city as your weapon, you will embark on a personal mission to inflict your own brand of justice."
This video takes us through the multiplayer mode of the highly anticipate game from Ubisoft, a feature the company have kept very quiet on until now that is! There are three modes to multiplayer including 'cat and mouse' where your aim is to take out your opponent before they get you!  There's also a team based mode pitting two teams against each other to decrypt a special file, think of a 'king of the hill' meets hacking! See for yourself!
Watch Dogs releases on May 27th
Editor-in-Chief, part-time super villain and hoarder of cats. If you can't find me writing, I'm probably in the kitchen!