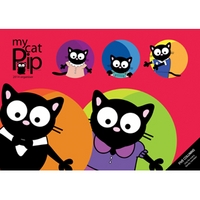 Review: My Cat Pip Just Launched
All your wee children, nieces, nephews, siblings will love this !  Easily the cutest little kitten in the app store.
 My Cat Pip for iPad is the very first game app based on the cheeky little black cat created by author and illustrator Karen Bendy.  Offering jigsaw and hidden object fun for children aged three and up, the new app is available from Tues 1st April from the app store for just €2.69
My Cat Pip, launched originally as a greetings card range in 2006, it became a global name with products including a very popular book range, bags, mugs, clothing and stationary.
 Players can join Pip as he has fun in lots of locations including the park, outer space, the sports field, the sweet shop, the circus, the farm and many, many more. The My Cat Pip app features 24 levels of jigsaw-based fun, each with its own set of hidden objects to be found once complete. There are 1200 jigsaw pieces to be placed and 1400 hidden objects to be found.
 As well as My Cat Pip-themed jigsaws for children to complete and enjoy, the new game features 24 sticker backgrounds to be used for picture making. The pictures can be saved to a photo stream and then emailed to friends. There are also 240 stickers to be unlocked and three levels of difficulty against the clock.
An easy to pick up and play interface makes My Cat Pip perfect for little hands, while the beautiful graphics and animation, along with specially created music composed and performed by Jamie Bendy and a voice-over by Mimi Bendy, perfectly capture the magic and humour of Pip, his world and his friends.
After having a wee go at this with my little brother the first word that I could come up with is adorable. This is a very sweet game that can really get the attention of young children through the colours and cute simple images.
The gameplay is very easy once you get the hang of it but it can be a bit of a trick initially as there is little instructions and no words to indicate where each cat goes. Admittedly this is probably a very small thing but for the parents or adults showing their child to play the game it can be a case or pressing buttons to see what goes where. At a spritely age of 20 something I did find it a bit difficult to work around this for a while but got the hang of it soon after.
The animation and the colours are really thought out in my opinion. It really does attract the attention of children with the cute animations. There is plenty going on although it can be quite a busy screen when working on the hard level of the puzzles as the animations busy up the screen.
The game will be featured in the App Store in the children's category and contains no in – app purchases ( A HUGE Plus in my books). It also contains parental gates to prevent the little one getting on to the web while playing it.
Overall this is a great game for children and a lovely little app to have at the ready when attention wains.
[easyreview cat1title="The Arcade Verdict" cat1detail="" cat1rating="8 out of 10″]